I think it's about time for some deliciousness. My family and fianceé are obsessed with this buffalo chicken dip, so I thought I would share the step-by-step instructions! Don't tell anyone, but this is one of the easiest little snacks you can make!
1 – First, grab your 2 cans of pre-cooked, shredded chicken. I soaked mine in buffalo sauce overnight, then tossed it on the skillet for about 5 minutes to get it a little browned. Both of those steps (soaking and heating on a skillet) are totally optional.  (See the photos below for steps 1 – 4)
2 – Next, you'll want to get your cream cheese to room temperature (I put the whole package in a ramekin and heated it in the microwave for 1 minute to get it softened).
3 – Spray down your container, add 1/2 your chicken, all of the cream cheese, 1/2 of the sour cream, a handful of shredded cheese, then get to stirring.
4 – Once you get those ingredients combined, you'll add in some ranch. Always remember the ranch.
5 – Add the rest of the chicken, another handful of cheese, and pour on 1/2 a packet of dry ranch dip. (See the photos below for steps 5 – 7)
6 – combine and stir in all ingredients. add the remainder of your cheese (yes, the rest of the bag) on top.
7 – stick this bad boy in the oven for 30 minutes at 350 degrees, then check it out!  If you want to cook longer, go for it.
8 – set out with tortilla chips or crackers and you're set!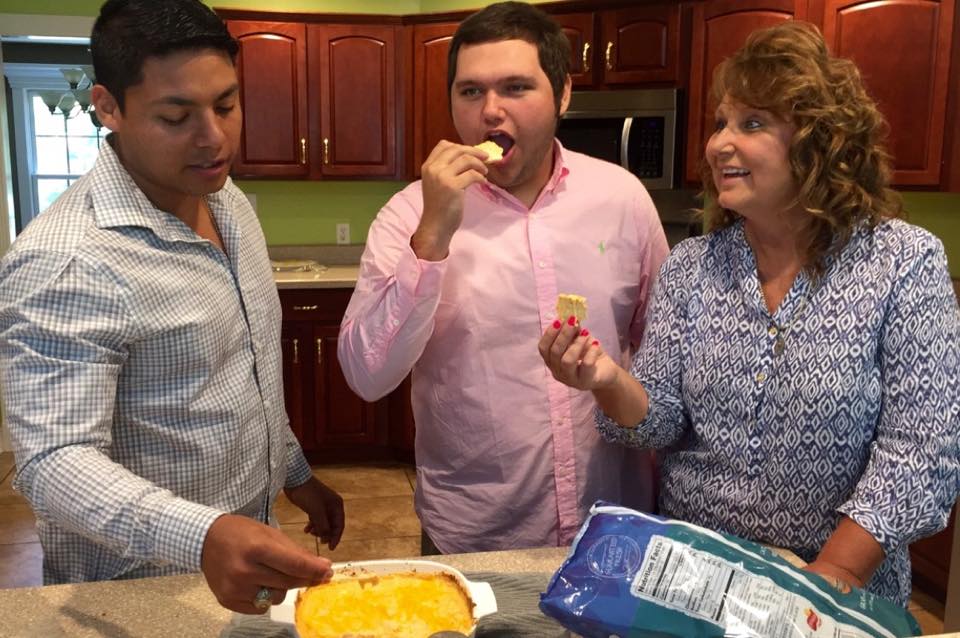 My vegetarian self always watches as my family dives in, but I am obsessed with these buffalo cauli-nuggets. Don't worry, I'll be posting this recipe soon, too! (Even the most manly meat-eaters won't be able to resist!)
Eat up!
Xo, N.