I knew our move to Chicago would bring a ton of lifestyle changes. Walking from place to place, delicious pizza stops on every corner, insanely different weather, and something splendid to do, no matter what time it is. One thing I was not expecting was the cost of living being so dramatically different. Before heading here to visit, I did a little research and found a few places that were comparable to rent in Texas. Once we embarked on our journey to find an apartment, we realized very quickly that these "good deals" were way too good to be true.
Needless to say, we are spending more on rent for our adorable 1 bedroom apartment than our brand new 3 bedroom house's mortgage… but we have some of the best views the city offers. Being just a 5 minute walk from the shoppes and attractions any newbie to Chicago would love, I can't complain. You get what you pay for, my friends. Here's a few snapshots of our new place, and some tips on how to condense a 3 bedroom house into a 1 bedroom unit.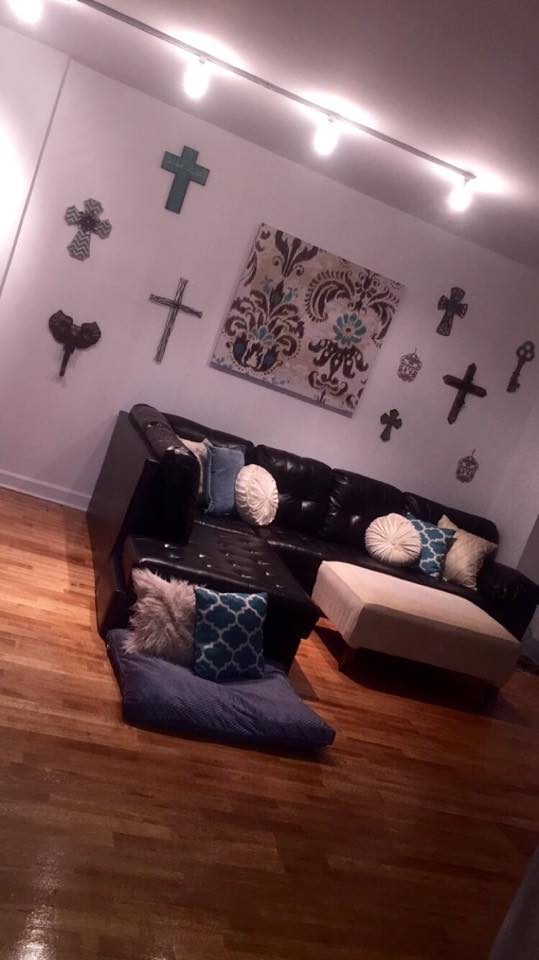 The living room is definitely the heart of our home. We wanted to make sure we still felt as at home as possible, so we jumped right in with decorating. Squeezing this huge couch in our living room was the most fun part of the move (not really, it was totally miserable), but I'm so excited we got it in! The wall decor is all from our house back in Texas. I love mixing pieces together, and collage walls are an awesome way to combine pieces! Harlow also has her bed out here, along with throw pillows, because she's a diva dog.  We also have this platform area in the living room, which kind of threw me off when it came to decorating. Luckily, there wasn't enough room for all of our dining room chairs, so they ended up here (for now). I definitely see this being an area that gets updated… I'll keep you posted!
The kitchen is really similar in size to ours at the house in Texas, so this wasn't a huge adjustment. I love the updates in our unit, with the granite counters, easy-to-clean wood floors, and all of this great storage space.  I was worried we wouldn't find an area for our kitchen table, but it ended up working great with the space!

My favorite spot in the apartment is our bedroom! I have another collage wall, because I am obsessed with hoarding wall decor. I also adore having lots of throw pillows, so there's plenty on our bed. (Throw pillows – The burlap ones are Hobby Lobby, along with almost all wall decor, and the other pillows are courtesy of Target clearance, coming in around $10 each! Bedspread – Target)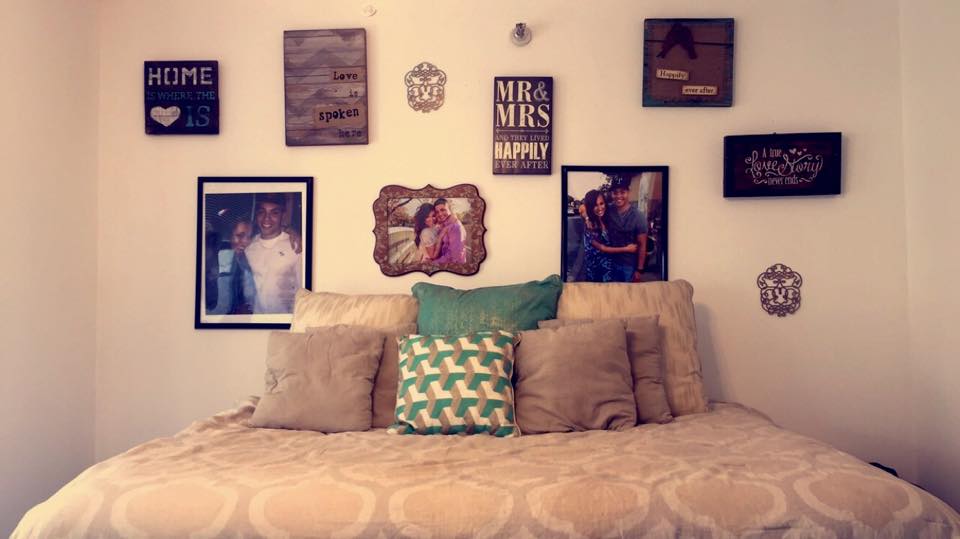 This little table was in our entryway at the house, but I had to utilize my resources and converted it into my getting ready station. Shout out to whoever placed us in this unit, because the lighting from these windows is the absolute best for doing hair and makeup!
There will be lots more updates to come, but this is a big start for bringing some Texas up to the windy city.
Hope you enjoy!
Xo, N.