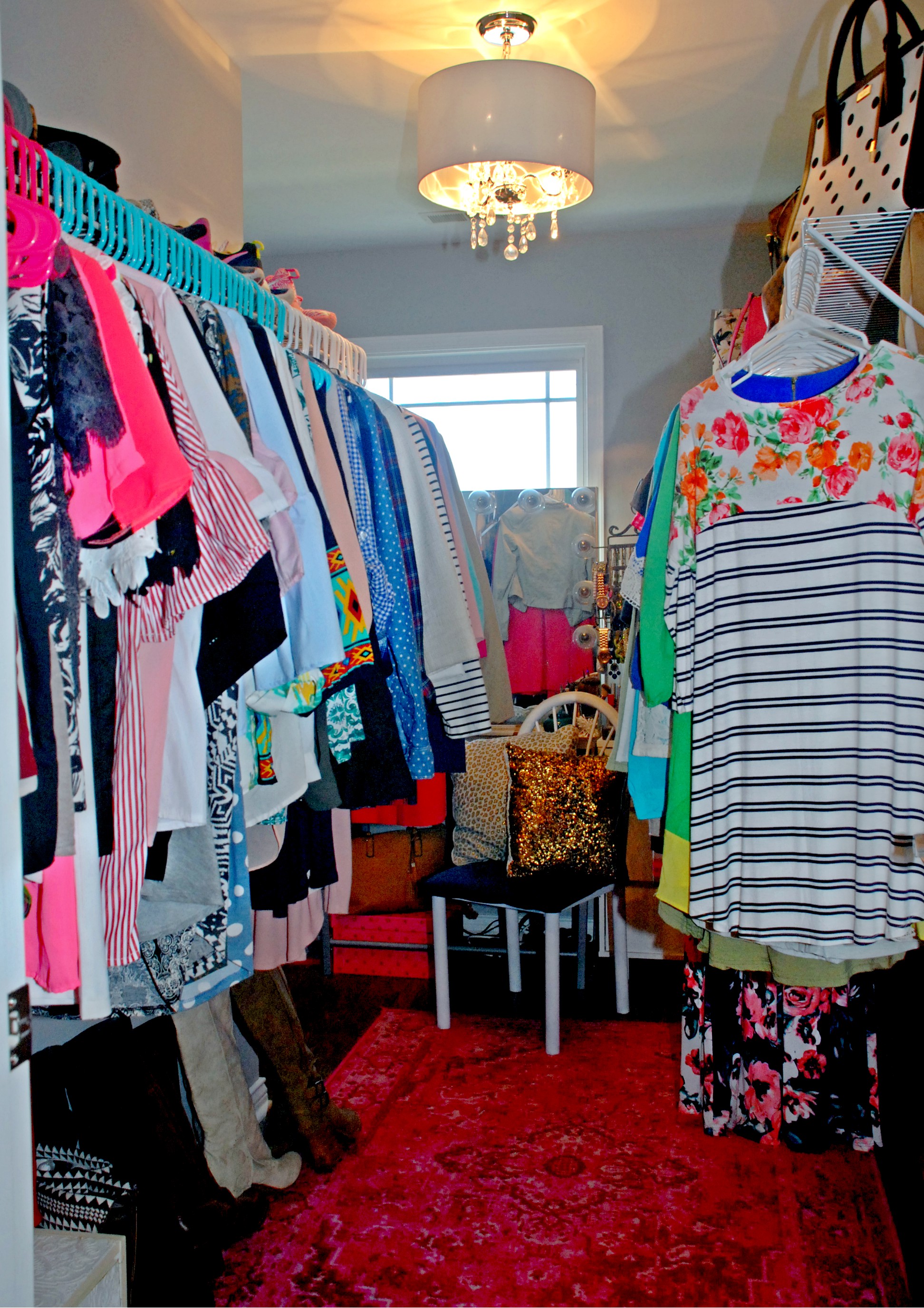 In case you missed it, last week I broke down a list of basics and closet staples and gave y'all a heads up it was a prep for spring cleaning!  We're in that in-between season here in KY where I need a sweater one day and sandals the next. While it might seem a little early, we all know life happens and cleaning seems to be the first task to fall on the back burner… Either way, I think you'll love getting this jump start on de-cluttering your closet and getting it freshened up for spring. If you need a refresher, here's last weeks post recapping those basics. Alright, we're about to dive in on my quick notes to spring cleaning!
Step 1: Give yourself time. Don't make any other plans for your weekend, especially if this clean out is long overdue. No one wants to start, stop and attempt to start back up again. Get your game face on, turn on your favorite playlist and prepare to dive into a day-long commitment – I promise it'll be worth it! If you know you can't finish in a day, don't stress! Work to get through steps 2-4 completed on your first day, I can guarantee you'll be thankful you did.
Step 2: Get it all out. You heard me right, all of it. I know this seems counterproductive – I'm making a mess and supposed to be cleaning? But you can't thoroughly evaluate what pieces you're not needing if you don't get everything out to start.
Step 3: What are we gonna keep? Well, what do you wear? Which pieces are you holding onto "just because" or in hopes that one day you'll squeeze into them again? Think how much space those are taking up in your closet for pieces you'll actually use. I love tops I can wear with an assortment of styles and other pieces, so I try to hold onto those over trendy items. Pull out your list from last weeks post and refresh your memory and ask yourself again, "what are my basics?"  Now, don't go tossing your wedding dress just because you can't re-wear it – set aside a spot for your special pieces, but holding onto jeans you haven't been able to wear for years is a totally different story.
Step 4: The actual cleanout. Now that we've determined what you need to keep, let's visit those items we're ready to part with. First and foremost, pull out those nicer labeled pieces and start a stack. Grab anything that you've purchased in the past year – if this was in a store on the hanger, would you/a friend still purchase it? If so, add it to your "sell" pile. This is a great way to get some funds set aside to add to the list of basics you need to purchase. Start a Facebook thread to sell your items, download Poshmark or stop by Plato's Closet.
Next, let's get a stack going to donate. Any "junk" pieces (items with holes, stains or just entirely overused) need to go in the toss pile. Let me be super clear on this – donating is amazing, fulfilling and necessary, however, no one wants your ripped, stained, over-worn items. Donations should still be usable pieces, so make sure anything wavering that line lands in the stack of pieces you're going to toss.
Step 5: Get your vision for organizing. Don't actually dive in on it just yet – this is the "planning" stage so you know what is going to go where and which organization pieces you need to purchase. No one knows your basics like you! Make sure those are top priority and everything else falls in from there. This is also the time to evaluate which pieces you can store (seasonally or long term) in bins. Personally, I keep my thick, bulky sweaters, scarves and pieces I need but don't reach for everyday in these containers. There isn't room to hang it all – which pieces store best folded? Make sure you're allotting plenty of space for each area, then make a trip to the container store once you've decided what should go in totes. I also change hanger colors from my short to long sleeve tops, then again when transitioning from blazers to cardigans. Decide what works best for you, get your vision for laying it out and then…..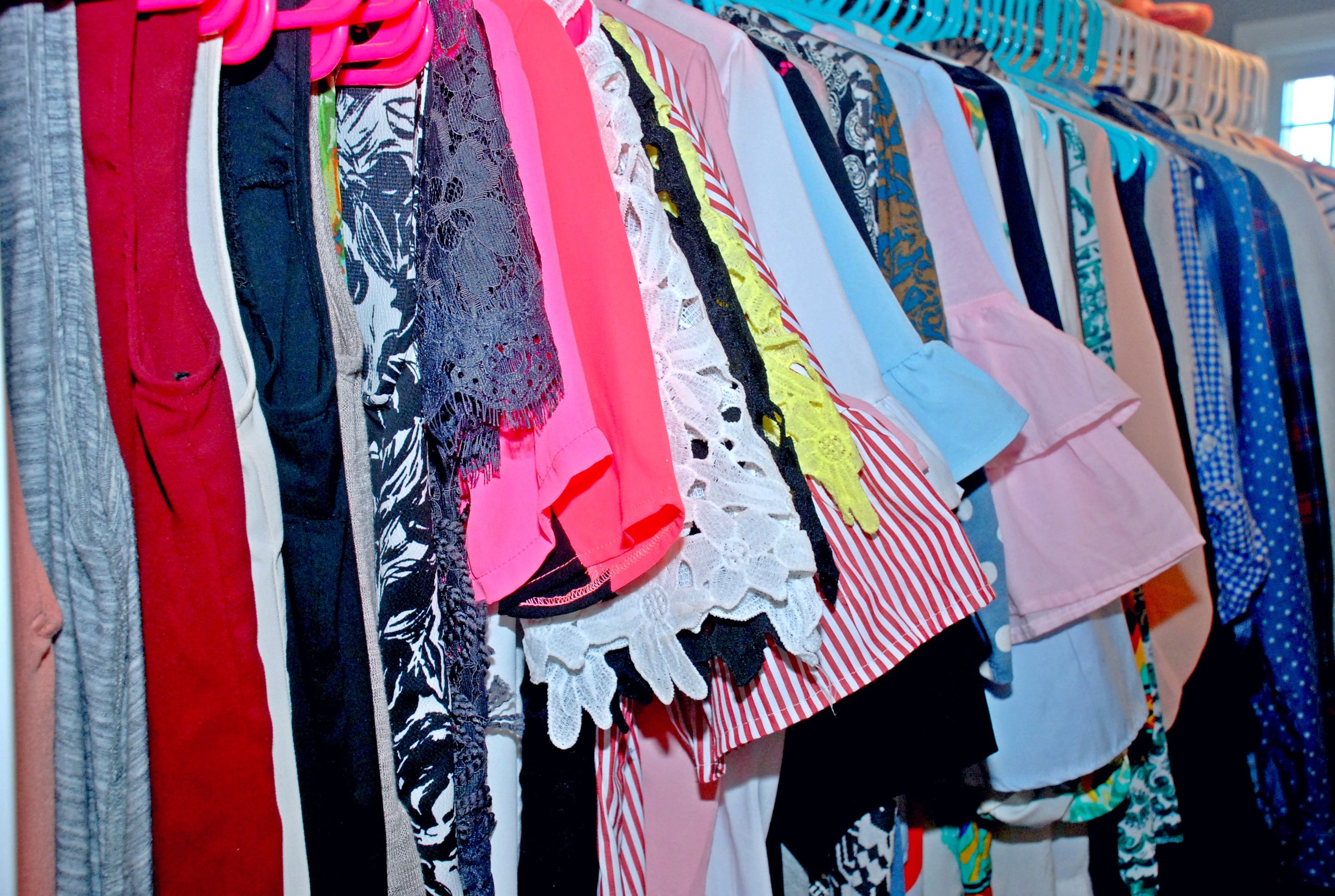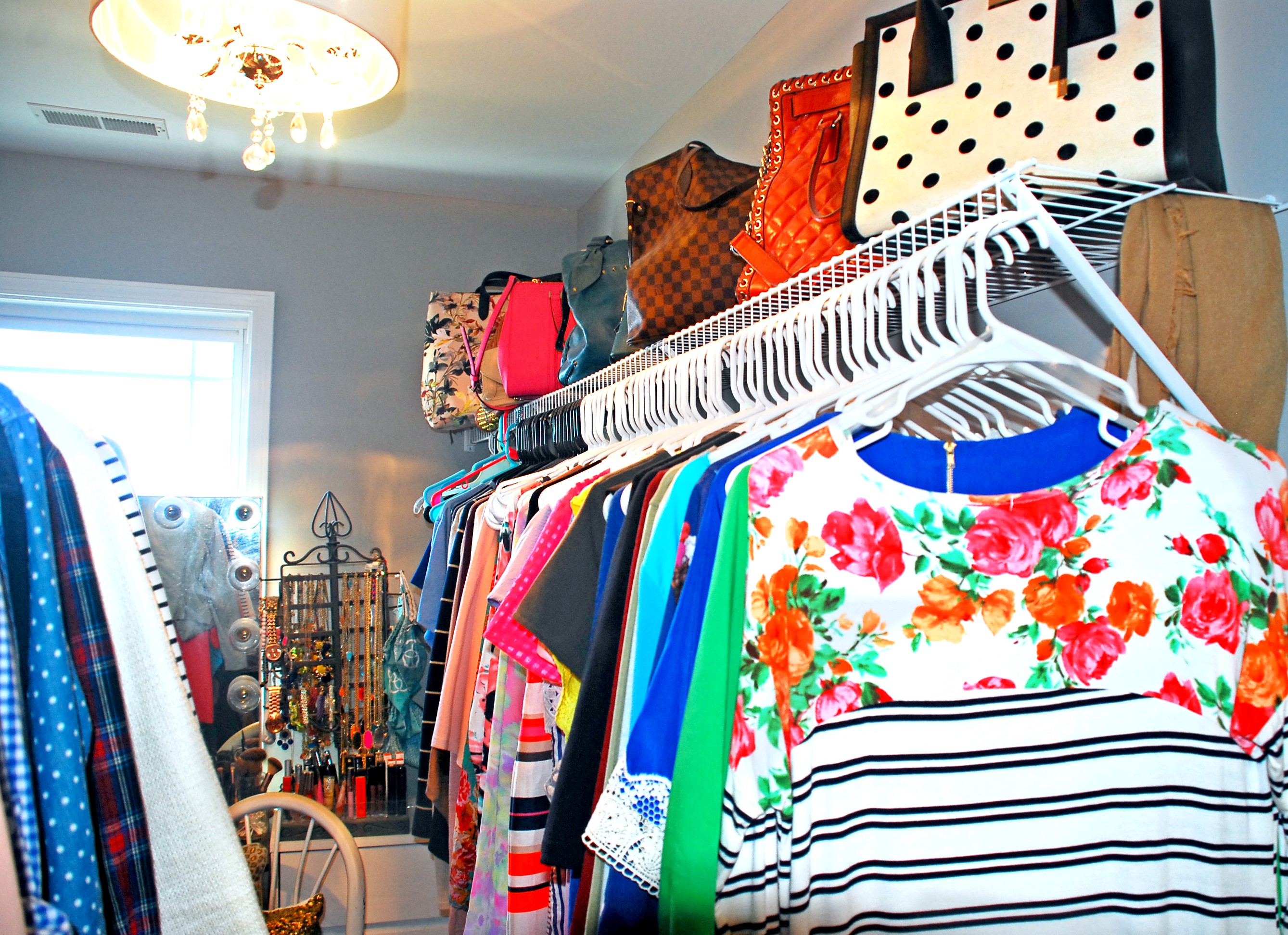 Step 6: Putting it back together. This is the fun part! I try to organize by season so I know where one ends and the next begins. My closet starts sleeveless, goes into short sleeve, long sleeve and then blazers/cardigans. I keep my un-boxed shoes and all of my bags on the "shelving" over my clothes. Bags take up SO much room and this serves as an awesome way to optimize space while displaying your collection. I love keeping my shoes in boxes – they're much easier to stack and organize with the setup I have and it helps hold their shape. Item that I keep in drawers are pieces that don't really need ironed, such as camisole tanks, tees, shorts and denim. Grab your totes and place the items you're not needing to have as easily accessible. (These smaller totes are perfect for seasonal jewelry or individual pairs of shoes!) Fill your drawers with the pieces you think will store best, then start loading your hangers with the pieces from your "keep" pile.
If time permits, I highly suggest steaming/ironing your items as they're going back into your closet! You've made it this far, why not knock out one less task as these pieces are going back into your freshly organized closet? Trust me, future you will be extremely thankful on those time-crunch mornings that you have an outfit that's ready to go.
Do you have any suggestions or extra steps you add into your spring cleaning? I'm always looking for new ways to make my space feel more organized, so I would love to hear your suggestions. I hope your closet is feeling a bit more put together & ready for spring!
Xo,
Nicollette