It's nearly impossible to explain the overwhelming emotions experienced when attempting to put myself together the day we were being discharged from the hospital. I had this vision of excitedly getting Braxton home, rushing up to his nursery and taking tons of candid photos with our new bundle of joy. There was a crazy expectation I had carried all through pregnancy that as soon as he came out, my body would go back to pre-baby all within my three-day hospital stay. Wroooooong.
As I came to the mind-boggling realization that we were in for a much longer span of gaining back my former shape, I felt extremely defeated. I humbly reminded myself it took 9 months for my body to stretch to grow this perfect tiny human, so I couldn't expect it to bounce back overnight. (I know this sounds like common sense, but don't attempt to logic with a new momma less than a week postpartum!)  With that in mind, I leaned on 5 key pieces already hanging in my closet for comfort + confidence in my post-baby state.
1: Empire Waist Tops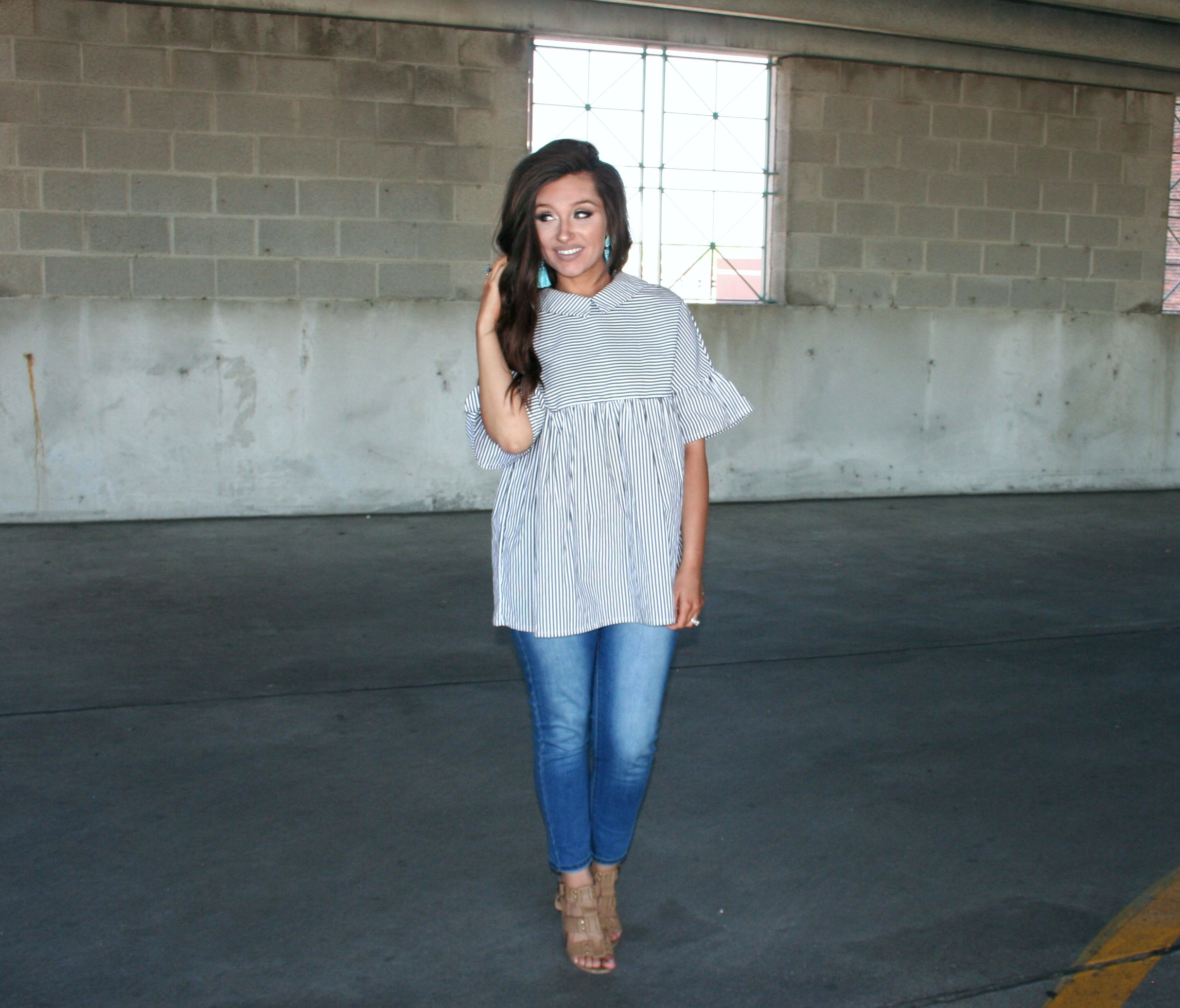 OUTFIT DETAILS: BABYDOLL TOP | JEANS | SIMILAR SHOES
In the early stages of pregnancy (where you can't tell if the person is pregnant or just overdid it on the donuts at breakfast) I was dependent on empire waist tops, & the same holds true for the weeks post-baby. Empire waists are seemingly always flattering, but especially while waiting on that belly to continue shrinking back to normal.
2: High-Waisted Leggings
I can't rave enough about these leggings! In general, leggings are a go-to when I'm wanting to have a lazy day, or when nothing else is fitting right. I have lived in these since coming home from the hospital, especially since being in limbo with a handful of my pre-baby pants fitting. These are amazing! While most standard leggings have an elastic band (that lands right on the post-baby pooch!), these sit above that area and don't have a fitted band, so no digging or lines!
3: Chiffon Shift & Wrap Dresses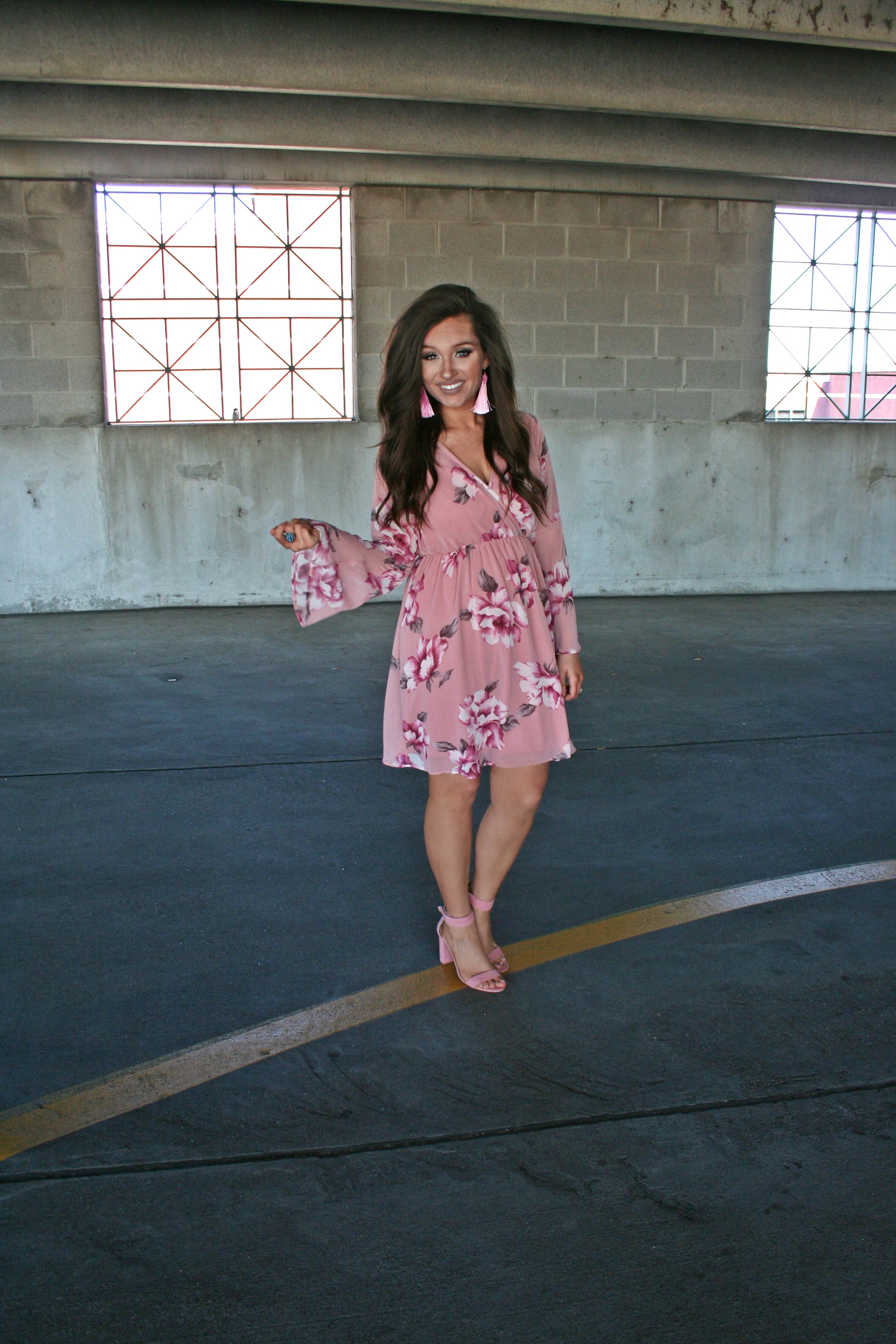 OUTFIT DETAILS: DRESS | EARRINGS | SIMILAR SHOES
I had an event a few weeks after Braxton arrived and immediately hit the panic button. When pregnant, I adored wearing fitted tops and dresses to show off my bump, but that isn't the case post-baby. I cannot explain my level of excitement when I came across Pink Blush's new line! Their pieces are made for early pregnancy, full-term bumps and post-pregnancy. I'm obsessed with this wrap-style dress; much like the empire waist tops I referred to earlier, this gives you the ease and freedom to dress adorable without worry of your post-baby belly showing. (Also reference our family shoot for the cutest shift dress ever!)
4: Maternity Pants
You heard me, maternity pants. I remember a few weeks after coming home from the hospital and having all of my leggings in the wash at once. We were about to head for lunch and I wasn't even mentally prepared to try on my pre-baby pants… so I pulled out my Cropped Maternity Jeans. If you're on the hunt for a pair for the office, these Black Maternity Pants are amazing and these White Maternity Crops are perfect for summer! My body wasn't ready to be in something as fitted as regular jeans, and the band on my maternity ones gave me the mobility and flexibility to move around (and eat!) without worry! Getting back in regular sizes will come soon enough, but until then, pull out the maternity pants & enjoy that comfy elastic waistband.
5: Oversized Sweaters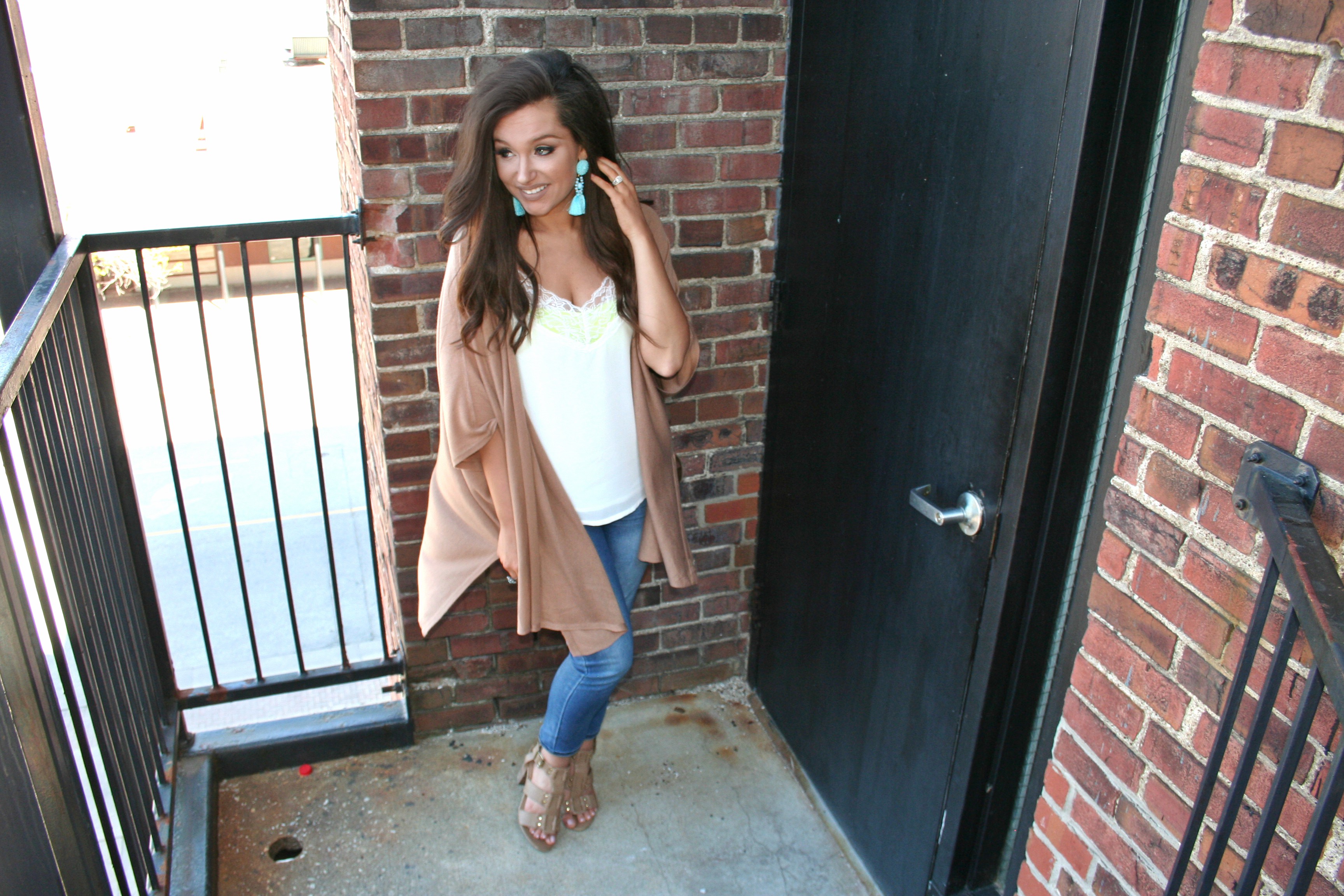 OUTFIT DETAILS: SIMILAR CARDIGAN | EARRINGS | TANK |JEANS | SIMILAR SHOES
This is a go-to of mine even when pregnancy isn't in the picture. Nothing screams comfort like loose-fitting sweaters, and they're a quick + easy way to dress up a tee and jeans/leggings. Y'all know what I'm talking about, oversized sweaters just make everything more comfy! Again, this is a look I love no matter what, but it definitely helped me feel a bit more like my "normal" self while trying to pull together outfits post-baby.
I hope this roundup has helped any of you recovering mommas, or maybe better prepared expecting ladies! Remember the changes your body went through to grow your beautiful baby & know that you're so amazing for all that you've endured! Don't pressure yourself to get back into those pre-baby pieces, I promise you'll get there soon enough. Are there any pieces you lived in after pregnancy? I would love to test out your go-to's!
Xo,
Nicollette