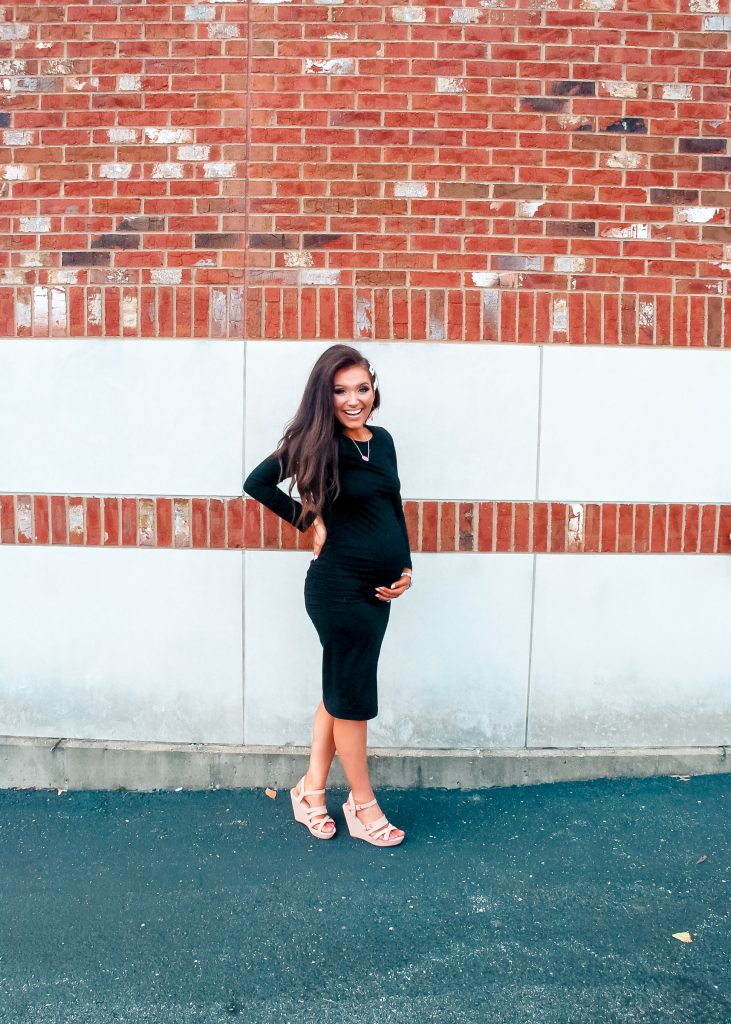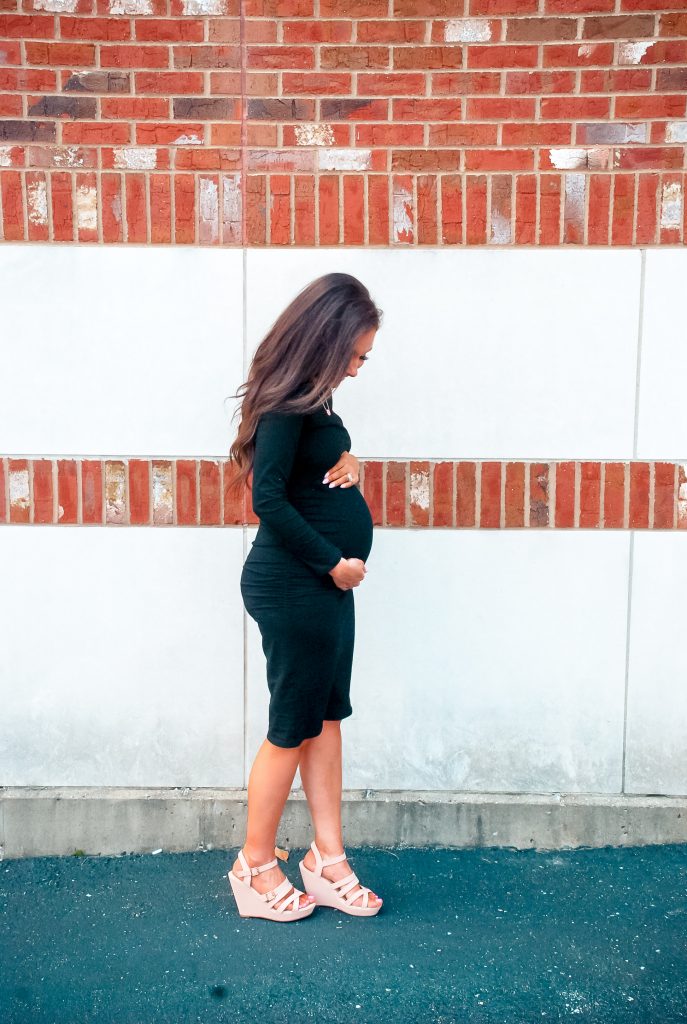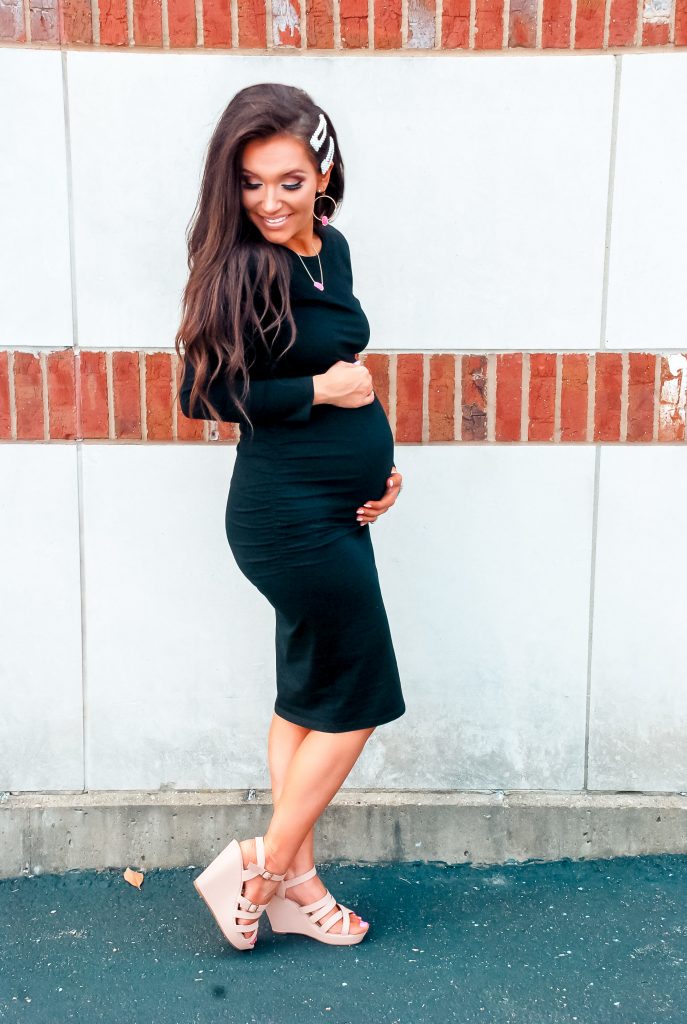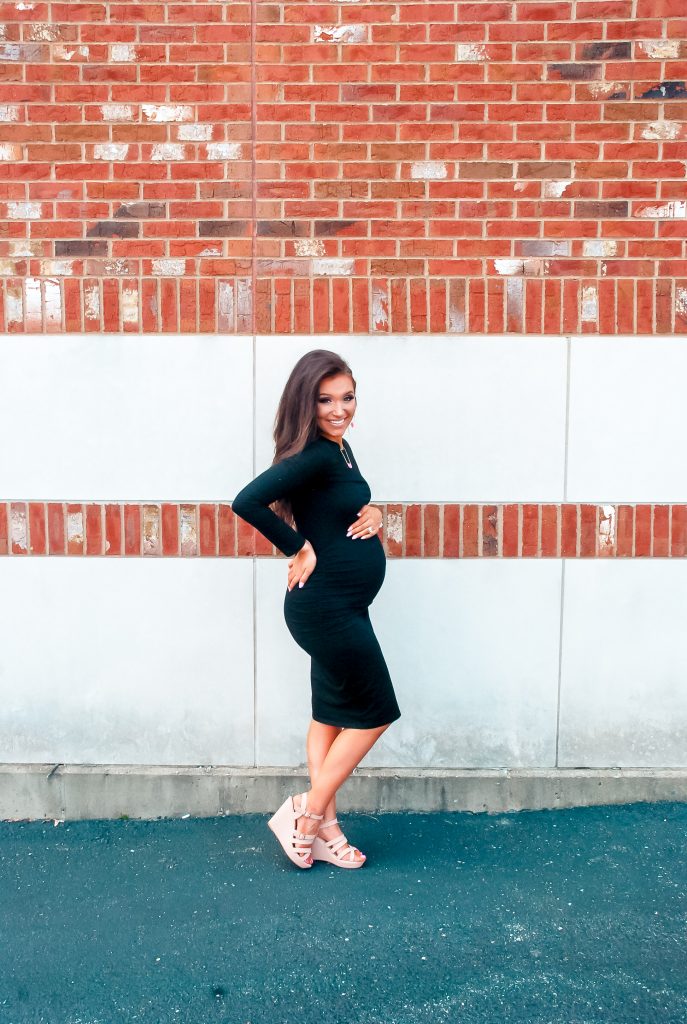 DRESS | SHOES | NECKLACE | EARRINGS | HAIR CLIPS
Happy Tuesday, pretty gals! I can't believe we're already coming up on the end of May. At times I feel like this year is flying by, but then I'll look down at my ever-growing bump and realize we have quite a few months until the fall! I wanted to pop in and share a little bumpdate and little ones name with y'all since I haven't shared a ton of baby talk lately.
ABOUT OUR BOY: It's crazy how different pregnancies can vary. With Braxton, I was beaming and loved every second. This little one has taken such a toll on me that I'm counting down the days until my doctor says "we're officially on baby watch!" Hopefully this isn't foreshadowing that he's going to keep me even more on my toes once he arrives!
HOW FAR ALONG: I'm sitting midway through week 21! Like I said before, there are times I'm like "wow, this pregnancy is going so quickly!" only to remember I'm only half way to the finish line.

MOVEMENT: This little one is already so active! I remember Braxton would wake me up throughout the night with his hard little movements towards the end, but this sweet boy is moving around much sooner than I remember last time. I think they're the internal movements  no one else would see or feel quite yet, but it's really special to have that just between he and I. We had an anatomy scan yesterday and he was really showing off his little moves!
HIS NAME: We're so excited to meet you, Beckham Thomas! We had picked out Braxton's name before we even thought about having children, so there wasn't a ton of thought that went into it the first time around. This time, we were kind of stumped! I loved the idea of having another "B" name and wanted something that wasn't too common, but also not completely off the wall. Braxton's middle name is Mario, which is a family name on my husbands side, so we wanted Beckham to have something from my family. My dad and brother are both Thomas, so I was really excited to incorporate their name.
HOW I'M FEELING: I get tired really, really easily! I'm sure having a busy 14-month-old doesn't help, but I'm soaking up every second of Braxton bear still being an only child. Continual sleepiness and more frequent headaches are pretty typical. More than anything, I just feel really large! I'm so warm-natured and was blessed that my last pregnancy was all through the winter. This time around, I'll be at my peak of pregnancy in the dead of summer!  One of my many fears is how miserably hot I'll be throughout the next few months, but I'm also an advocate for spending most of my time indoors regardless of if I'm expecting.
PHYSICAL CHANGES: I've heard from nearly everyone that you show so much faster the second time around, and I can totally attest to this being true! I was worried we wouldn't make it through the first trimester without someone asking if I was expecting because my bump was prominent so much quicker this time around. I'm also carrying a lot more weight in my hips and thighs this time, but I get a lot of "you're all belly!" so that's always nice to hear. Although, I can't imagine many people saying "wow, your entire body looks huge this pregnancy!"
WEIGHT GAIN SO FAR: I have already gained 18 pounds! I was hoping not to gain more than 30 my entire pregnancy, so I'm hoping that our afternoon walks, in combination with chasing busy little Braxton around, will keep me active enough to fend off any crazy weight gain. I definitely don't want this to be the focus of my entire pregnancy, I'm just trying to make sure I don't have too many days where I'm binging on snack food and ditching walks. Mario got me an Apple Watch for my birthday and it's helped me stay accountable to getting my 10,000 steps and staying active daily. You'd be so surprised how hard it is to get steps when you're based at a desk 8 hours of the day!
WARDROBE FAVORITES: Last time I really struggled with finding good maternity pants! I this is where I got most of my maternity dress pants, but I was so nervous about shorts since I'll be pregnant all summer.  I was on a Target run the other day and snagged these jeans and the jean shorts as well – such a game changer! I've also been living for these dresses (pictured in todays post). They aren't maternity and the extra ruched material is perfectly flattering for your midsection if you don't have a little one on the way. They come in short sleeve and sleeveless, so I'll be stocking up in a few colors!
EVERYTHING ELSE: 
BRAXTON BEAR: He has been such a busy, sweet little cuddle bug these days. I love watching on his baby monitor in the mornings – he will wake up and snuggle all of his teddy bears, give them love and rub their backs while he hugs them. I keep telling Mario he's going to snuggle on Beckham just the same. I swear, he is the most loving little boy! We're really excited and anxious to see how he takes to being a big brother. I don't want to get my hopes up, but he adores other kids and is obsessed with his older cousins!
NURSERY: We're not going to re-do the nursery. Since the boys are so close in age, we're leaving things as they are. Braxton didn't move into his crib until he was about 9 months, so we didn't want to move things around for the new baby since he will primarily be in our room. There is tons of closet space, so they'll be just fine (through the toddler years, at least!) sharing that as well.
DOUBLING UP: I'm planning to do a post dedicated to what essentials we're re-using from the first time around and which we'll have to replace to accommodate for both boys, so stay tuned! If you have any recommendations, please send them my way!
If you've made it this far, thanks for sticking around! I know this was more long-winded than usual, there's just so much to catch y'all up on. I'm so grateful y'all want to follow along with our journey of expanding our little Vizuet clan and am already counting down the days to meet our sweet Beckham Thomas.