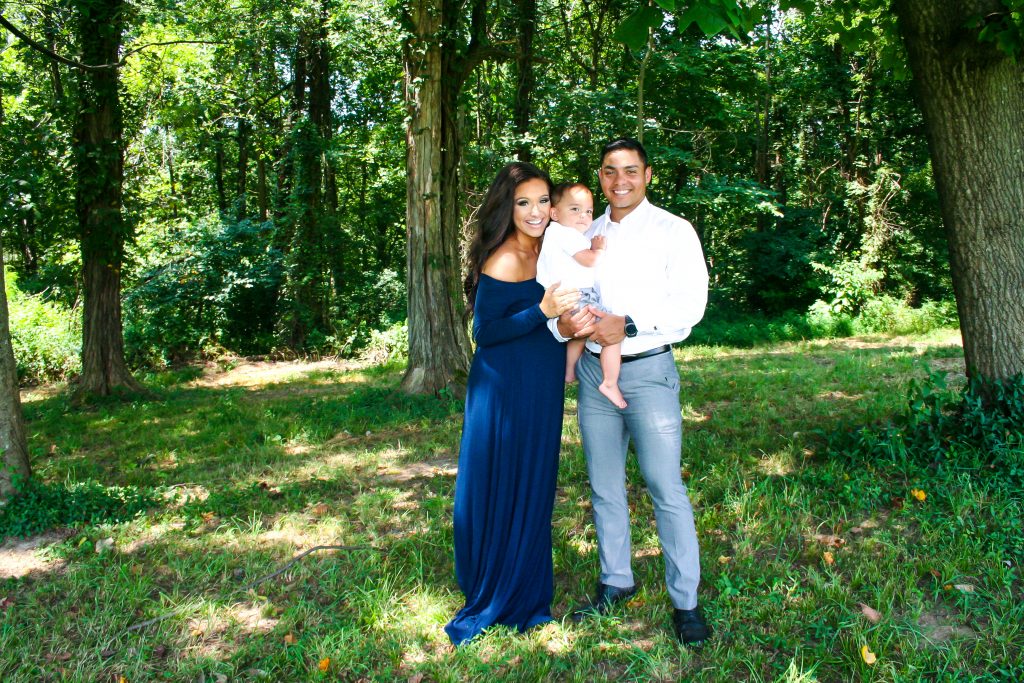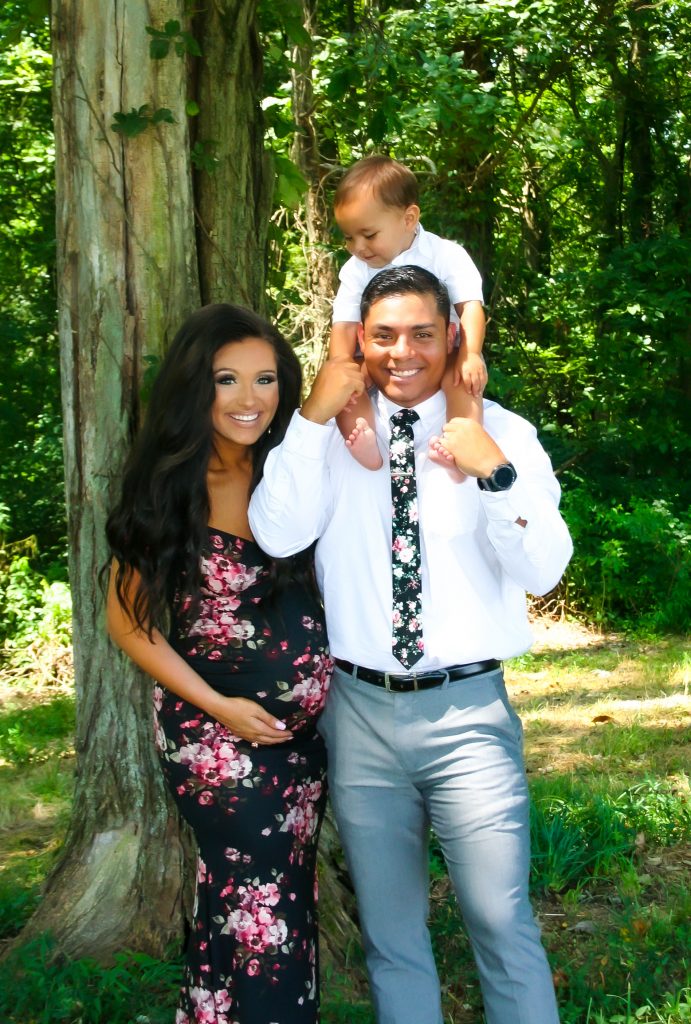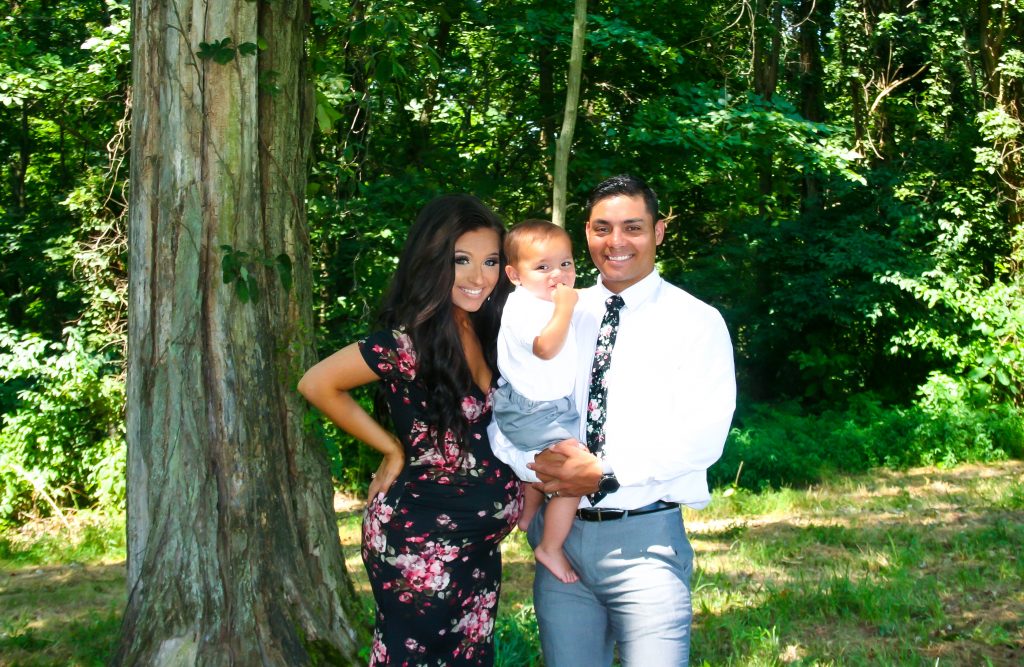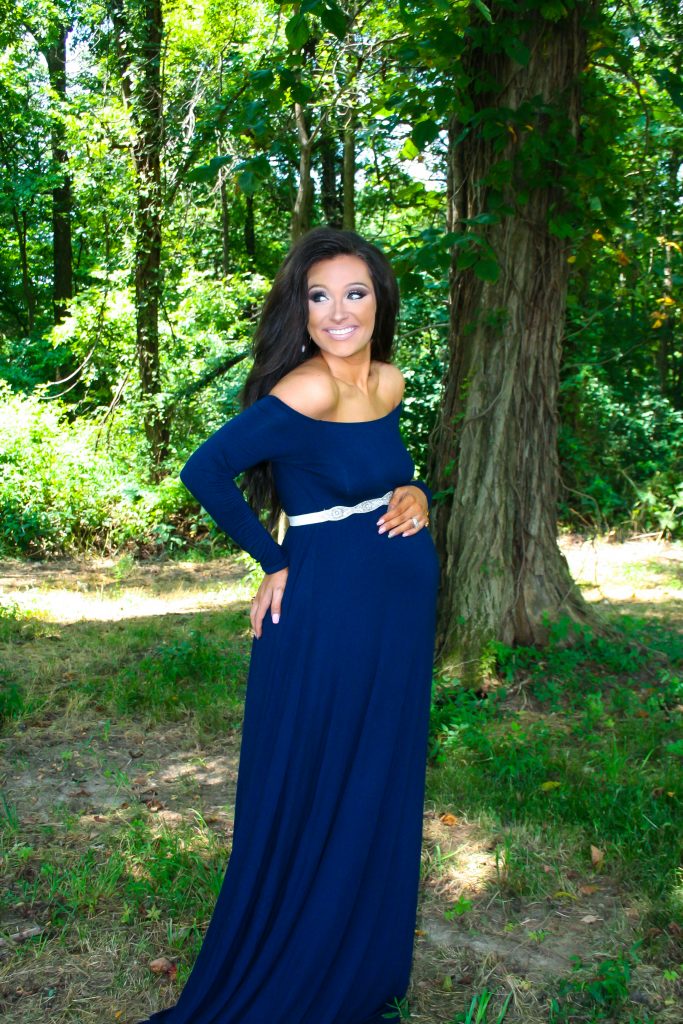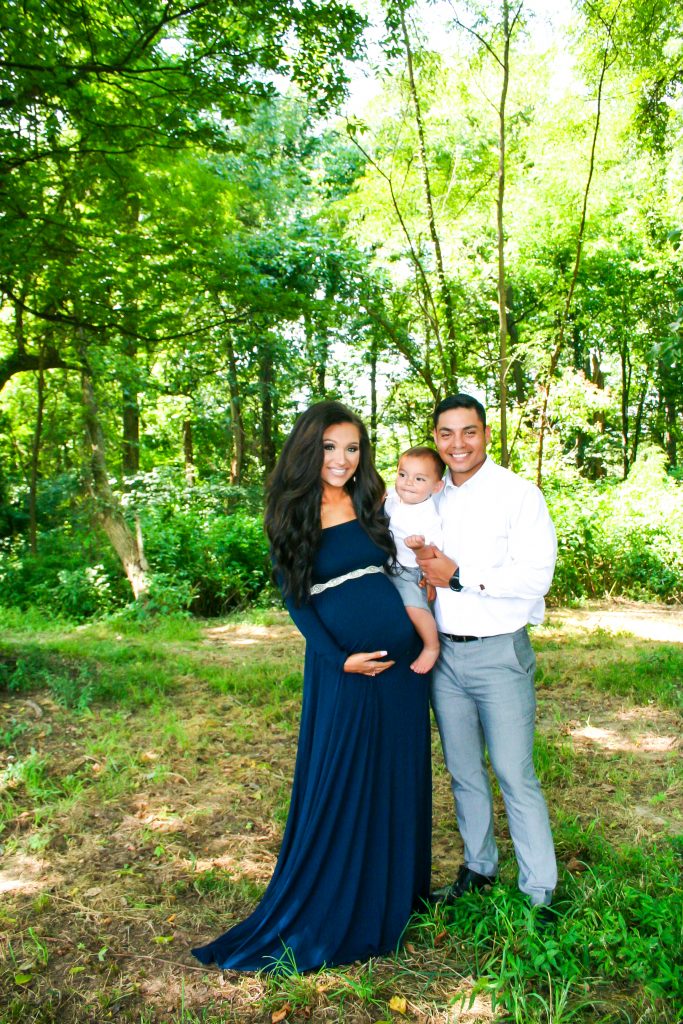 Hi loves, Happy August!  I can't tell y'all how hectic things have been around here – between getting ready for Beckham's baby shower, keeping up with busy Braxton and being extra slammed this past month in the office, I almost forgot to plan time for maternity photos! I partnered up with my loves over at Pink Blush Maternity to share a few of their gorgeous gowns and can't rave enough about the quality and selection. Sharing both of these beauties and a handful of others perfect for showers, maternity or even engagement photos!
BUMPDATE ON BABY BECKHAM
It's been a little over a month since my last bumpdate! Y'all are always requesting more pregnancy info, so here's a mini-roundup of what's been going on with our sweet Beckham.
HOW FAR ALONG: I'll officially be 32 weeks this coming Sunday. Wow. Sometimes I feel like this pregnancy has lasted forever, but then I'll look back and think "oh my gosh, I remember finding out we were expecting like it was yesterday."
MAMA STRUGGLES:  Mario and I always dreamed of having our children back-to-back, so I obviously didn't plan on Braxton being the only baby for long… but there's apart of me that feels guilty for this stage only lasting such a short amount of time. The love you have for your baby is just something you never really knew existed, so it's hard for me to anticipate what that will feel like with two babies. I know it will happen so effortlessly, but it's hard to imagine right now that there's anything in life I could love the way I love Brax. Needless to say, we're over the moon about Beckham and I'm cherishing these solo moments and snuggles with Braxton as much as possible.
WHAT WE'RE WORKING ON NOW: We're just a few days away from Beckham's baby shower! I felt so much more prepared for Braxton's, but I think that's just how things are the first time around. We weren't chasing around a busy little toddler, so putting effort into each little detail was really manageable with the first. Thank goodness my mama and aunts are all hands on deck taking care of the details. Building our registry has been so fun! I can't wait to share the updates and plan to do a full post recapping all things shower-related. Some of the decor has arrived and I'm so excited to share!
WHAT TO WEAR: I said this in my last bumpdate and I'll say it again – you won't catch me in anything but dresses the rest of this pregnancy!  These non-maternity dresses are my go-to and I've been living in the short-sleeve versions lately! The length is so appropriate – I wear them to work all the time.  I layer them up with a cardigan for the office and am so thankful for the variety of color options!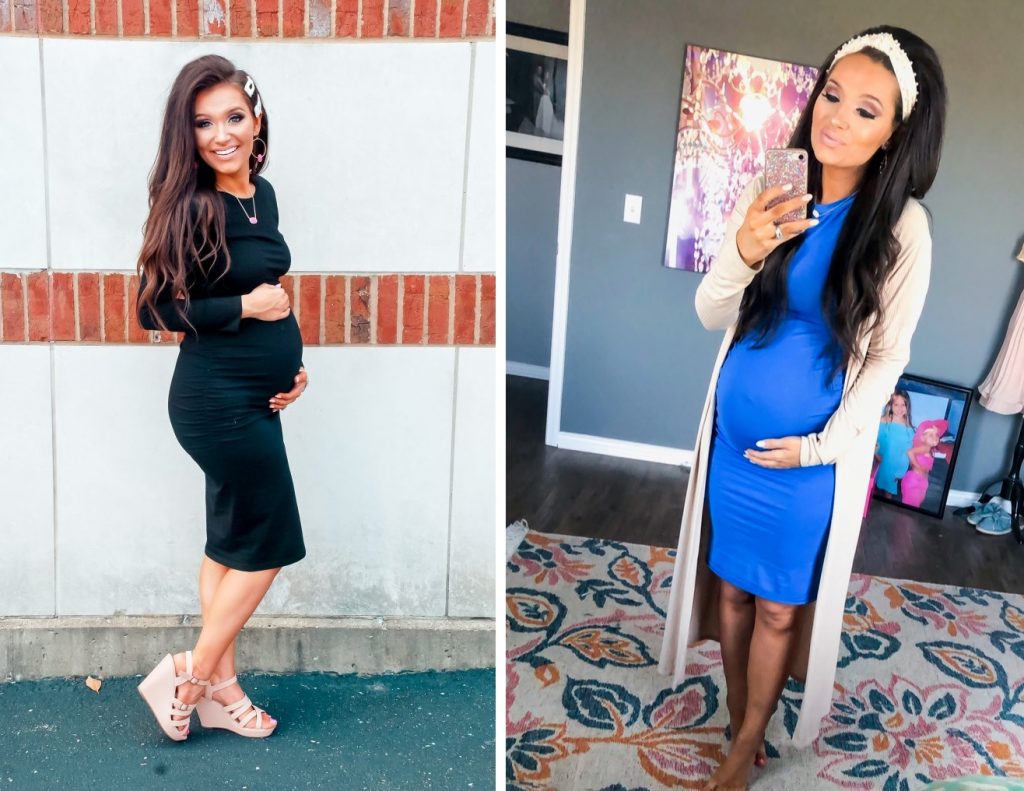 WEIGHT GAIN: Y'all know I hate this part! I'm up 32 pounds so far. I continue sharing because I remember reading bumpdates from other mamas-to-be about their 10 pound weight gain all pregnancy and I felt like something must be wrong with me. I'd hoped to gain no more than 30 my entire pregnancy, but here we are! I'm really uncomfortable and feel like I'm carrying a ton of weight in my hips/thighs. We do our best to go walking at night and be somewhat healthy at home, but I'm far from the most active gal around. I just keep reminding myself that we all have such different pregnancies and I'm so grateful my body can grow our sweet little one.
EVERYTHING ELSE: just a few little blurbs that don't deserve their own paragraphs, but probably pertain to the bumpdate.
I had an impromptu trip to the ER because of some crazy pains a few weeks ago. We found out it's a combination of round ligament  pain and ovarian cysts. Both are really painful, but luckily aren't causing any strain on Beckham bear.
Braxton has loved laying on my belly lately and giggles when he feels movement. He also has a new fascination with belly buttons – probably because mine is looking different on the daily, LOL. He's been obsessed with lifting mine and Mario's shirts and poking belly buttons – he thinks it's hilarious!
Between all the baby movement, my lower belly pains and running to the restroom every 30 minutes, sleep is hard. I've been using a pillow to support my belly and that's helped a ton. As difficult as it is now, I'm also reminding myself it'll be even more challenging when we're getting up with a newborn every few hours. Relishing in the night-long silence while we can!
Summer pregnancies are brutal y'all! I'm really hot-natured already, so our A/C bill will inevitably be through the roof now that I'm growing a tiny human. We've been spending weekends at my parents lounging in their pool. Mario used to beg me to go swimming and now he can't keep me out of the water!
Thank you sweet gals for the love, support and interest in our pregnancy journey! You have no idea how much it means when you share your stories, sweet words and well wishes. My little family feels and appreciates all of your love and prayers more than you know. We're anxious for September and can't wait to continue sharing all about our growing boy crew!


This post is in collaboration with Pink Blush Maternity. While I may receive a small commission from any purchases made through affiliate links, all opinions and selections are my own.