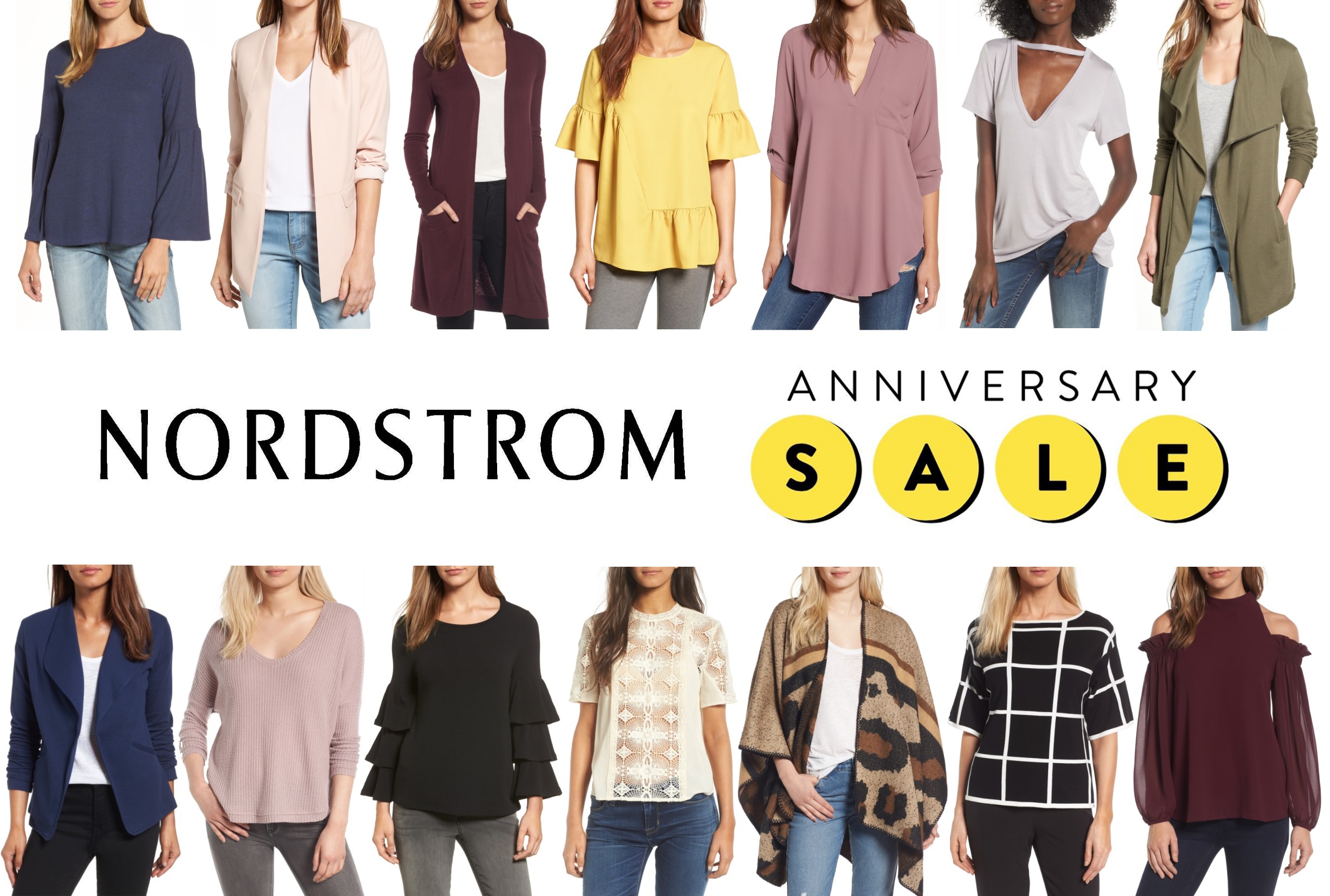 Unless y'all have been living under a rock, I'm sure you've heard about the Nordstrom Anniversary Sale going on now. Most people probably don't know this, but I actually moved to Austin in 2013 to do an internship with Nordstrom and it was truly life changing! They are so innovative, so dedicated to hand-picking the best items, staying ahead of the curve with building new trends, but mostly treating customers to a full experience everytime they enter the store. I will forever and always be the biggest fan and supporter of the company, so it only felt right to put together a little mash-up of my favs under $100 on the sale!
1: BELL SLEEVE TOP: So obsessed with this, and it's a fun twist on a comfy basic top. Grab it in a few colors because you're gonna be in love!
2: NUDE BLAZER: I live for long-line blazers, especially open-faced ones like this.
3: MAROON CARDIGAN: I have a few of these and am ordering the colors I don't have while they're on sale! They're my fav because they're thin enough to wear now in my freezing office for work, but also a good layer for the fall/winter!
4: YELLOW RUFFLE TOP: I live for these style tops! I snagged the yellow because it'll go with a few different pairs of my work pants, but the patterned ones are SO fun too.
5: ROLL SLEEVE TUNIC: This comes in a ton of colors and is such an easy basic piece.
6: CUTOUT TOP: Okay so I tried to say I would only order stuff I could wear to work, but HOW could I resist these tops under $20??? Grab a few colors before they sell out!
7: CARDIGAN/JACKET: These are so cozy and still trendy – should be restocked in olive in the next few days!
8: COMFY BLAZER: Stock up on these y'all – I got a few last year and live in them!
9: THERMAL: This is the perfect layering piece. Size up for a longer look to pair with leggings – you'll live in it all fall!
10: RUFFLE SLEEVE TOP: I love black, I love ruffles, so this was a must.
11: LACE TOP: Wishing this came in more colors! Pair it with different color camis to change up the look.
12: LEOPARD: I can already sense living in this one all winter long.
13: BLACK x WHITE: I . LOVE . THIS . TOP . When you find Vince Camuto under $100, stock up because these pieces are amazing quality.
14: RUFFLE COLD SHOULDER: I love that this just has a pop of shoulder – pair with a fun ponytail or bun to show off the pretty back detail, too!
I hope y'all had fun shopping the #NSALE with me! Wishing I wasn't hours from a store so I could do a try-on with my fav items. Did y'all order anything on the list, or have anything I need to check out?! (As if I need to add anything to my cart…..)