As you can tell, I'm on a roll with the food posts. I have been kind of obsessed with finding fun eats to make, especially for my equally food-loving fiancée. He is so similar to my dad and will literally inhale anything edible, so it's fun to experiment on new food combos for someone that I know will enjoy!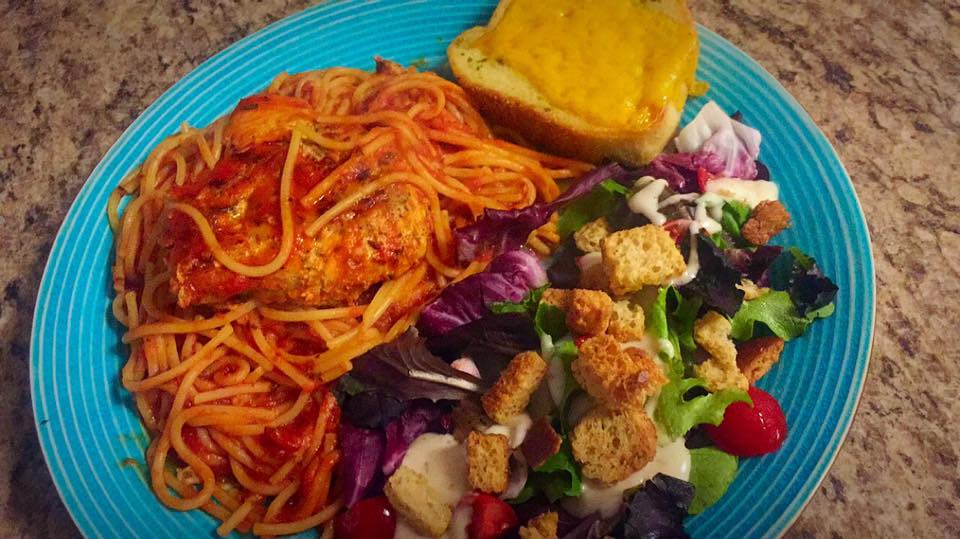 First up – grilled chicken spaghetti. This heaping plate of carbs was exactly what Mario was craving after his first long work week with a minimal lunch break. Spaghetti is so known for being inexpensive, which is always a plus, and next to impossible to ruin. I love getting these pre-seasoned, frozen chicken breast. I cooked up one of those, added a little additional seasoning and tossed it in (whole) with the spaghetti once both were totally done. Add a slice of garlic toast (topped with cheese, if you prefer) and a little side salad. If you're wanting a quickie meal and don't care for a carb overload, this is for sure a great meal on a budget.
This one was one of Mario's absolute favorite meals I've whipped up since we've been here. Don't let him know, but it's probably one of the easiest I've made, and for sure the least expensive.
First, we all know rice is super basic and inexpensive. When you have a huge appetite on your hands, load up the carbs with a full plate of rice, then add the additional food atop. This was basic white rice, seasoned with season-all, garlic salt, pepper and hot sauce. I let the black beans marinade in minced garlic, salt and salsa, and the shredded chicken marinade in taco seasoning, buffalo sauce, meat tenderizer and a little salsa verde. *I prepped mine in the morning and let it sit in the fridge until I got home from work, so about 8 hours. You'll then cook each on a skillet to get those flavors really infused*
Sear your corn tortillas, add a little cheese, a scoop of beans, another of your seasoned chicken, and top with salsa verde. Roll the tortilla and place it upside down, atop the rice. *I had a layer of cheese between the rice and burritos* Add as many as your heart and tummy desire. Heat until your cheese is melted, if needed. Mario chose some delicious guacamole to top it off – I also suggest sour cream, salsa and jalapenos.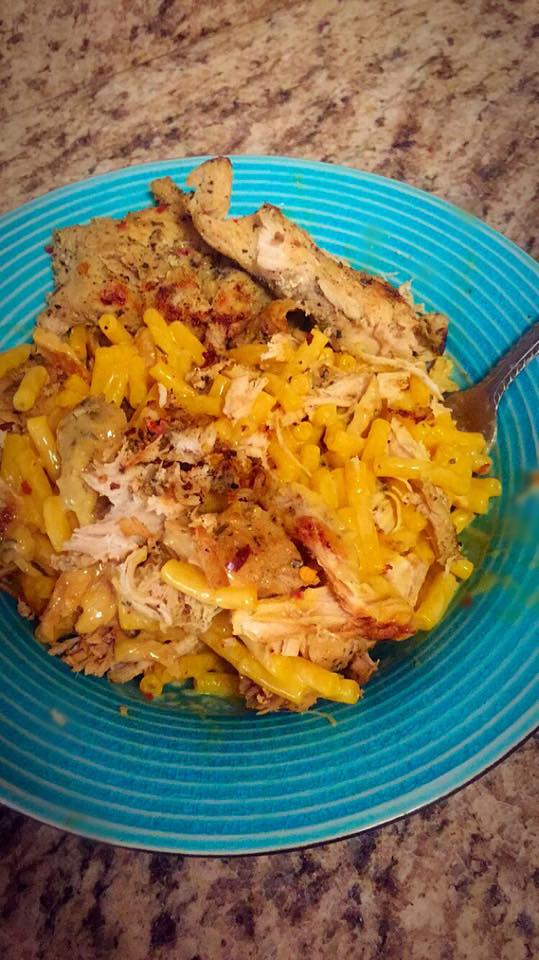 Last is this super easy, inexpensive dish. We all know a box of mac 'n cheese is under $2, and adding one of the pre-seasoned frozen chicken breasts from the first recipe to jazz it up make it a super filling meal.
Grill your chicken at the same time you start boiling the noodles, to ensure everything is finished around the same time. I was also feeling fun, so I also grilled up a few slices of bacon and threw that in the mix.
One of my favorite ways to mix up boring mac 'n cheese is draining the water, adding milk, a little butter, and a few extra slices of cheese atop the powder-y goodness that comes along in the box. If you're feeling really spontaneous, toss in a dollop of sour cream to ensure your mac tastes gourmet.
Hoping these inexpensive options have you running to the grocery to stock up on these quick, delicious eats!
Xo, N.