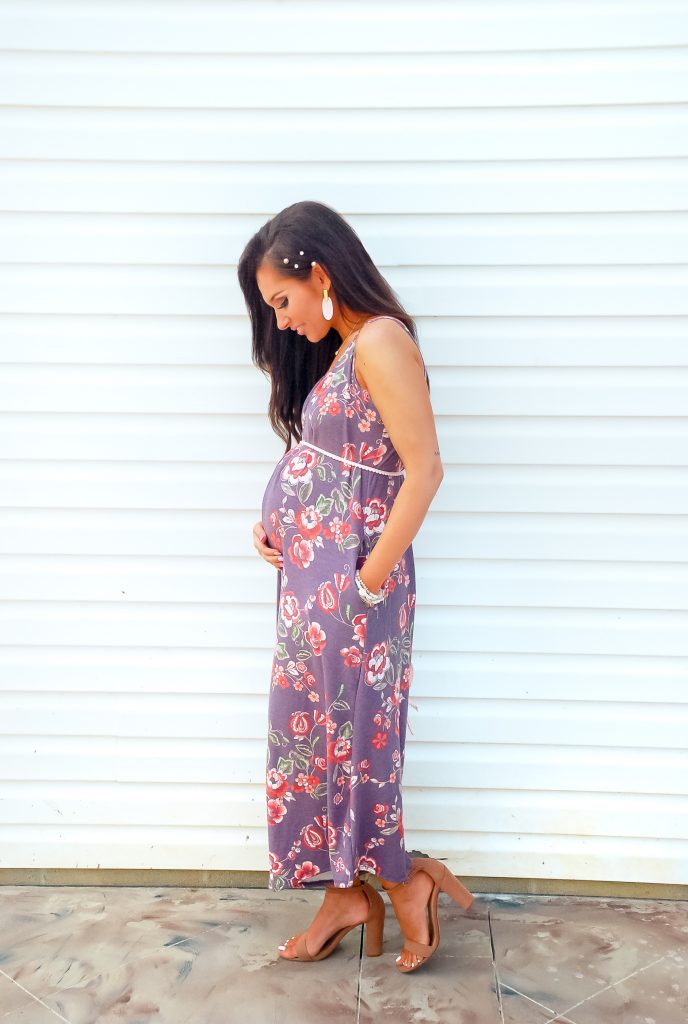 Well it's official – the bump is out and in full swing! Things are happening so much faster than the first time around! I've read that's how it goes, but everyone has such different experiences with pregnancy it's kinda hard to know if that's what you'll experience, too. Another big change is the timing of pregnancy this go-around. I couldn't have planned it better with Braxton – I was so hot all the time, so being pregnant through the winter was amazing! Also, there was no better excuse to wear leggings 85% of the time. All this to say, the thought of finding ways to dress the bump through summer has been a little overwhelming. How do I avoid burning up, finding shorts that don't pull//squeeze in all the wrong places (a challenge even when you aren't pregnant!) or wearing the same outfit every other day? Today I'm partnering up with Agnes & Dora to share a few favorites that are going to take me and the bump alllll the way through summer! Also note, these are not maternity pieces but are oh-so-flattering, so they'll work for any shape, bump or not.
JACKET | EARRINGS | HAIR CLIPS | HEELS | NECKLACE | JUMPSUIT | BRACELET 
I shared this gorgeous floral jumpsuit over on Instagram earlier this week and y'all were obsessed. Easy to understand why – this oversized fit is so darn cozy and I am swooning over the print! Definitely go with your true size on this one – I did a M and I'm sure it'll grow well with my bump over the summer, but a S would have been a little more flattering. This jean jacket is perfect for transitional weather, or if you're like me and freeze anytime you go to a restaurant!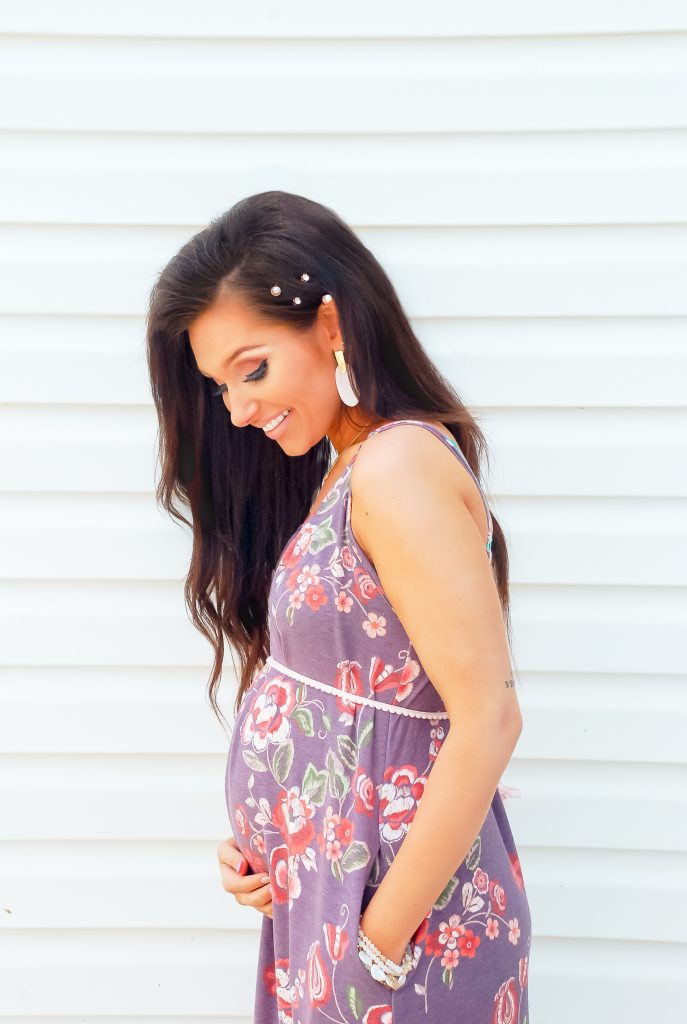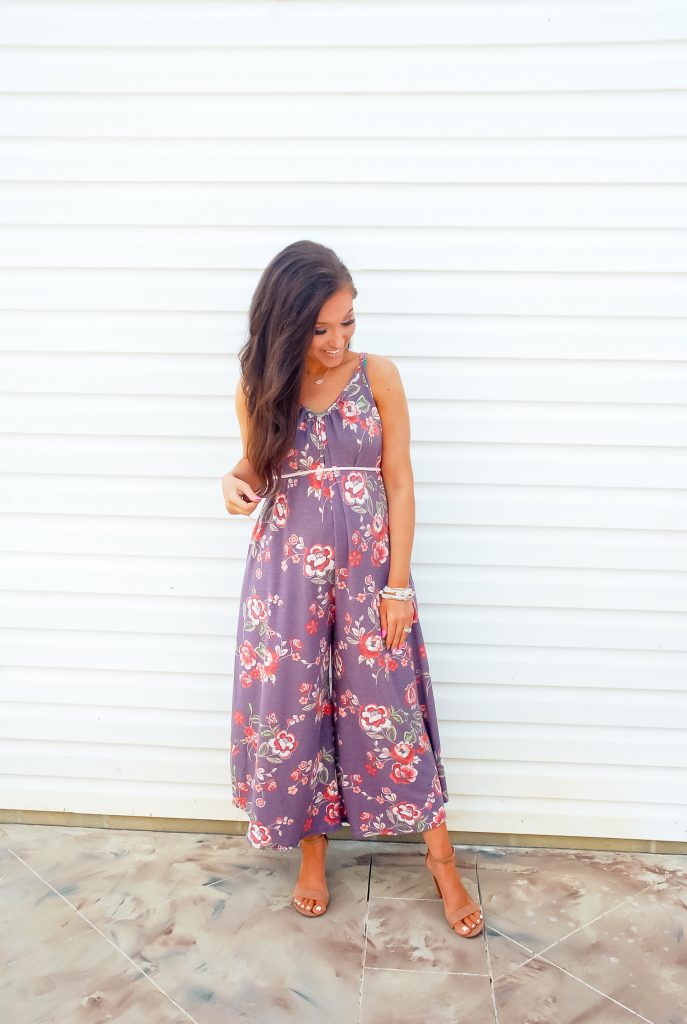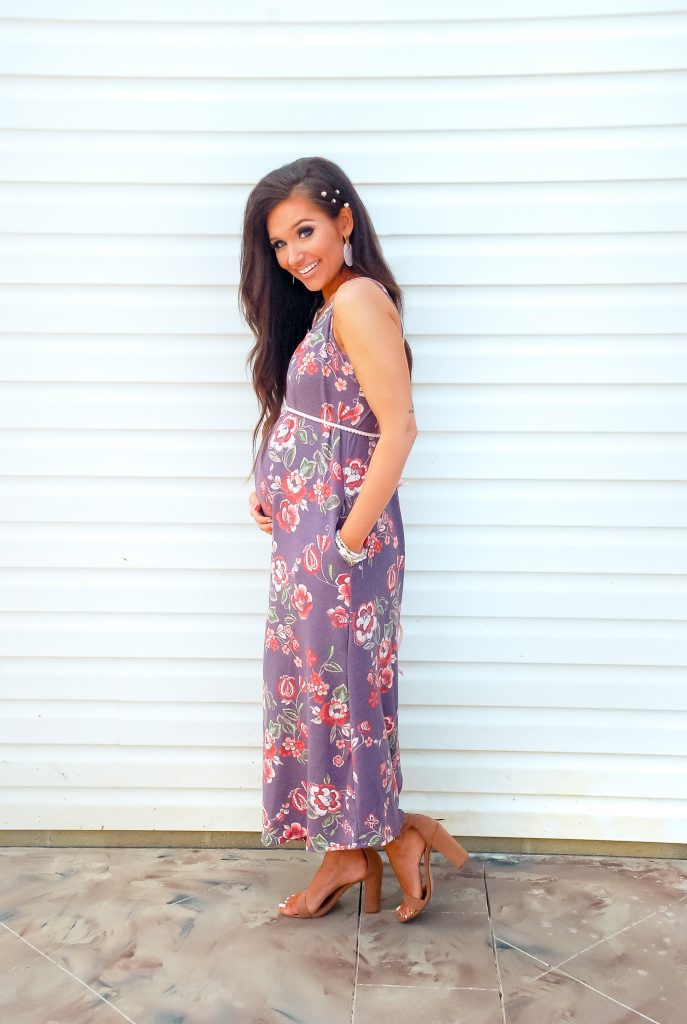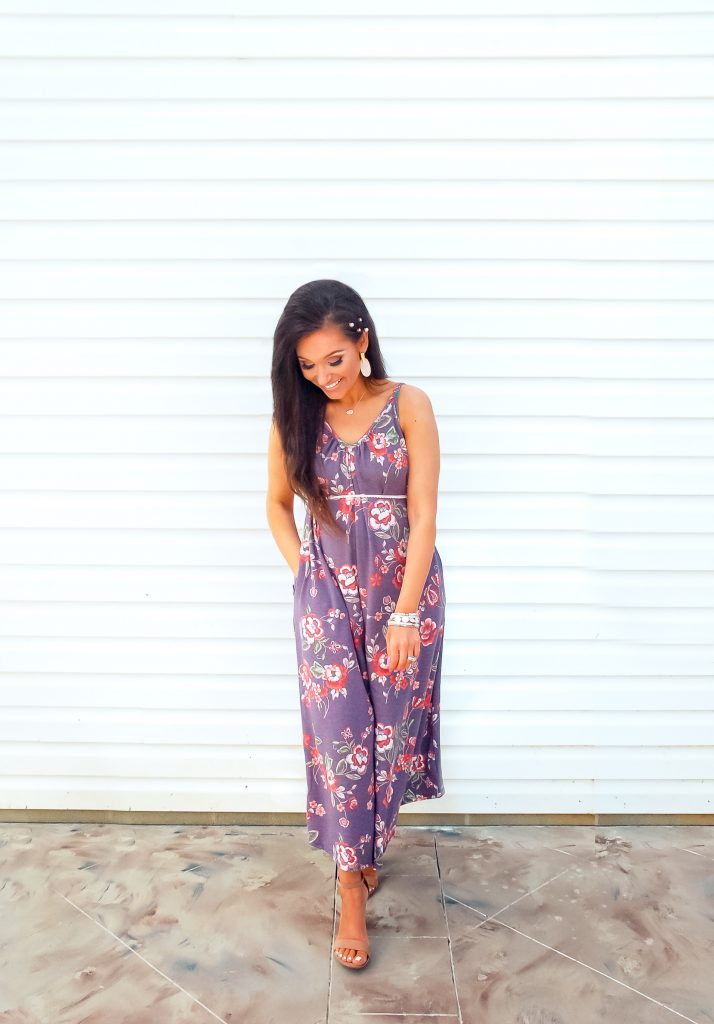 EARRINGS | HAIR CLIPS | HEELS | NECKLACE | JUMPSUIT | BRACELET 
When I find something I like, I need it in every single color…. hence why I'm repeating this pretty little jumpsuit in the mauve shade. Y'all are gonna think I'm crazy, but I couldn't find any of my skinny belts and needed something to cinch in around my bump. When I came across my crafting tote, this little tassel trim popped against the jumpsuit so well! I'm just improvising y'all, go with it! What you need to know: this is the coziest material, it has pockets, it's already oversized so stick with your normal sizing.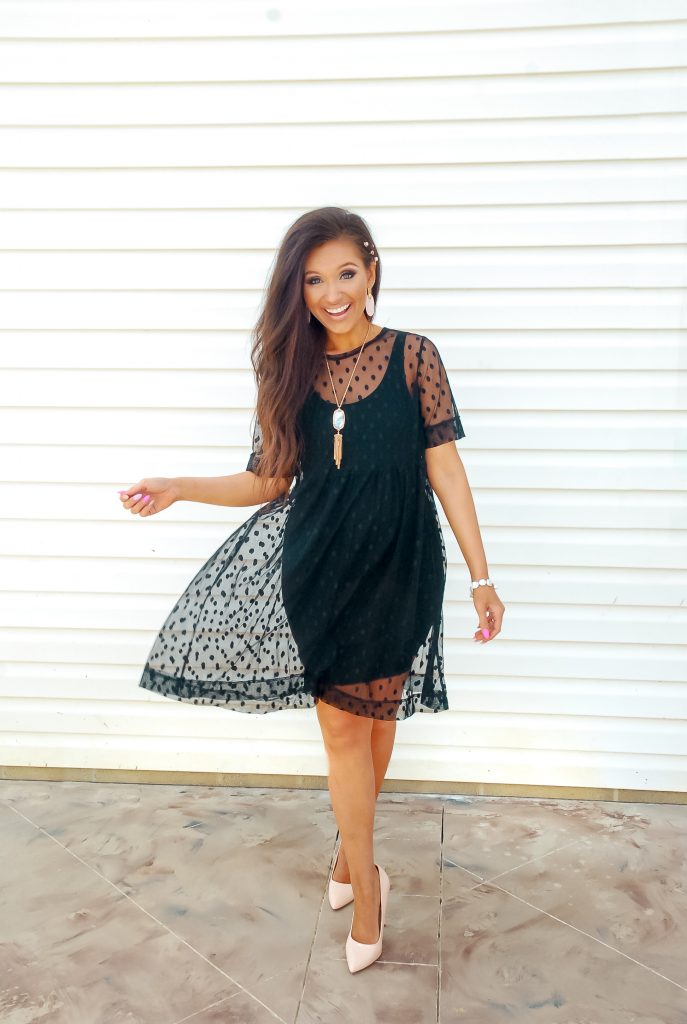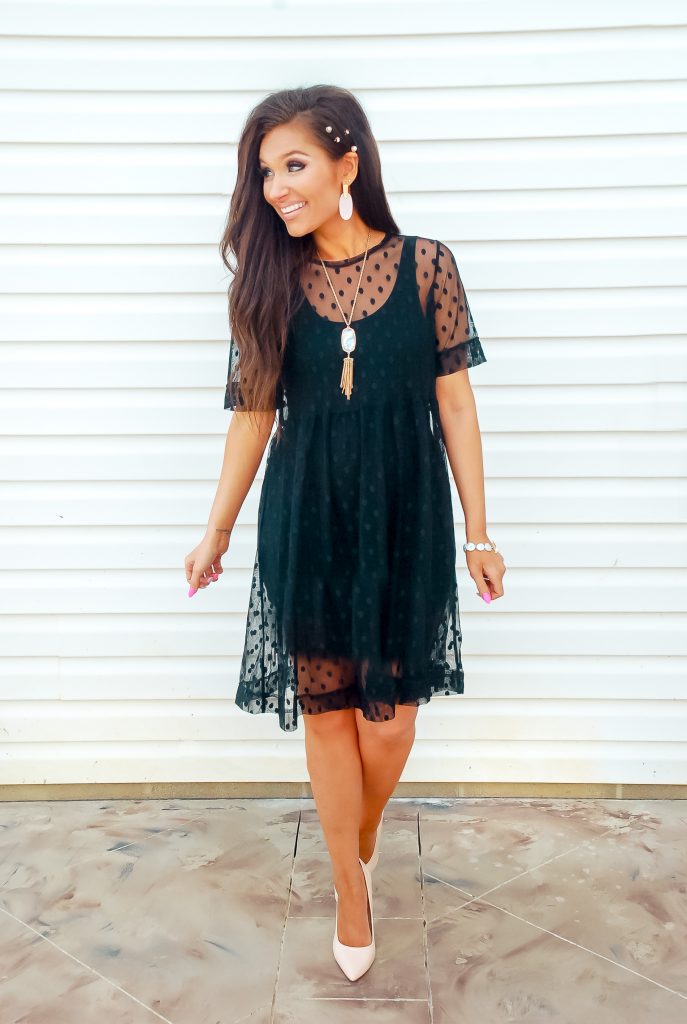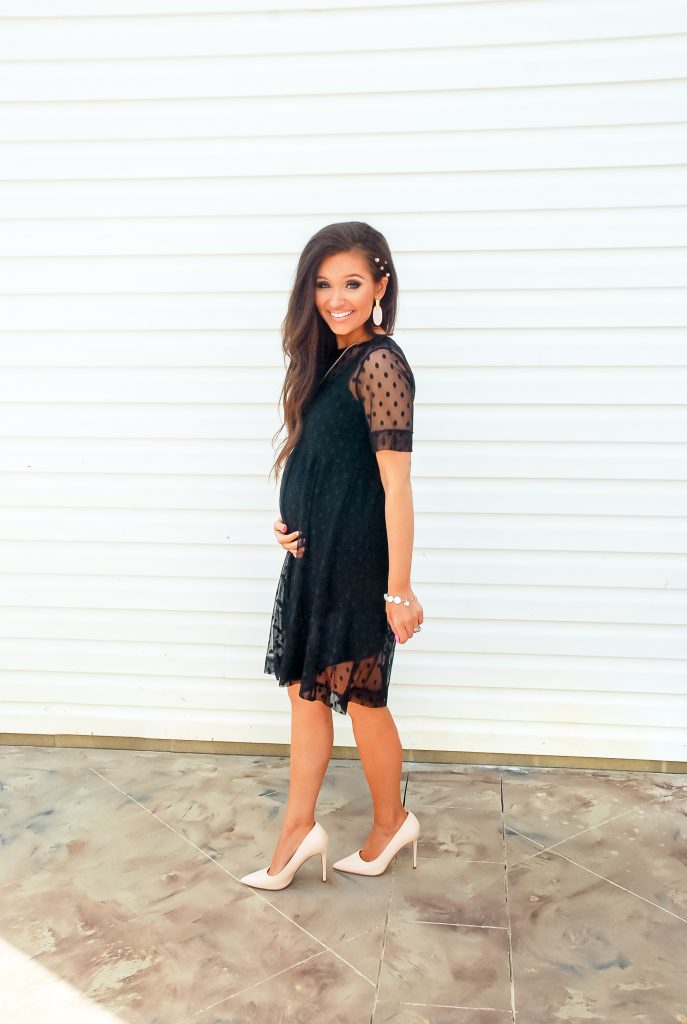 EARRINGS | HAIR CLIPS | HEELS | NECKLACE | JUMPSUIT | BRACELET 
I'm a sucker for anything that comes in black. While other colors pop better since I have dark hair, who can resist something that slims the hips and gives you a blank pallet to decorate with an array of accessories?! I especially love this pretty little polka dot dress because you can add any slip you'd like. While I went with a fitted black option, you can easily mix in something colorful and really make it pop. What you need to know: I'm in the M and love it because the length is great with the bump. There's a cinch just under the bust, so it's a super flattering empire-waist cut.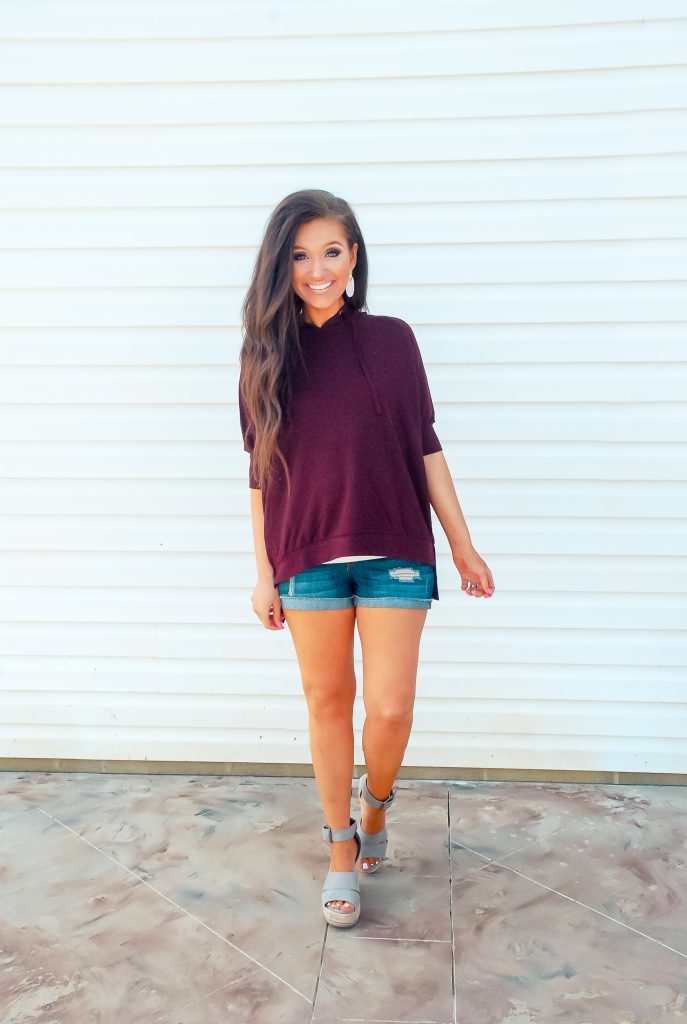 EARRINGS | WEDGES | SIMILAR JEAN SHORTS | PULLOVER
Okay, raise your hand if you could live in pullovers and miss them all summer long? I can't explain to y'all how excited I was to come across this 3/4 sleeve option – perfect for when the sun goes down. I also need to take a moment and praise the cut of this pullover. Longer in the back so it covers the bum when paired with leggings, but not so long in the front to pair with shorts all summer long. What you need to know: The pocket placement is so good – hidden but functional. Lightweight, perfect sleeve length and comes in 3 colors.
I hope this little roundup was helpful for you babes – I couldn't wait to share these pretties with y'all!  There's nothing more exciting than finding items that actually work into my everyday wardrobe and can be styled a multitude of ways, am I right?? If you're looking for functional, cozy and super adorable pieces, I cannot recommend these Agnes & Dora picks enough! Which look would you be most likely to choose?!

This post is in partnership with Agnes & Dora. All opinions and selections are my own.  I receive a small commission from sales generated through this post.