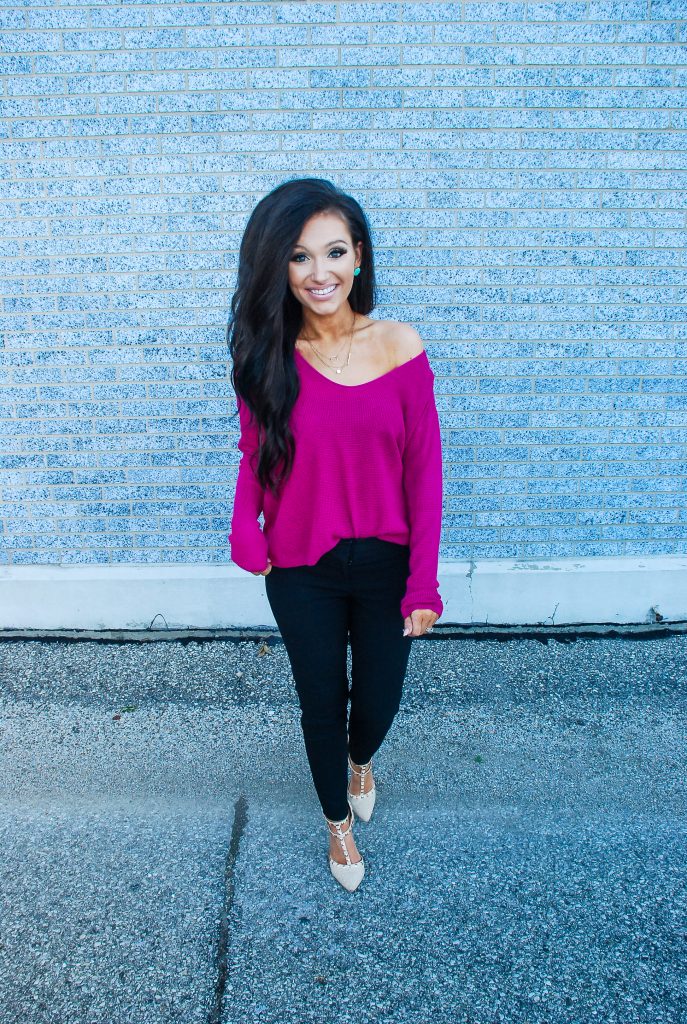 Happy #NSale Early Access Day! The sweater above was one of my finds from last years sale and I literally wore it on repeat once a week when it came in. Snag this years version here!  I couldn't be more excited to share these finds with you babes, because the sale is gooood.  Keep in mind: free returns, so buy the pieces you like knowing you can return them if they don't work out. Items weren't restocked last year, so don't miss out on something you love!
Try working off what you know you need or wear the most. While I'm linking my favorites in all categories, it doesn't mean they're all landing in my cart – I just want to make sure my page is your one-stop shop for all things #NSale! For instance, since I'm due in September, I'll probably be stocking up on forgiving, looser sweaters and skipping over more fitted pieces. I've seen SO many good boots, but my boot collection is nearly overflowing from my closet. I'll personally be adding sweaters, heels and workwear to my cart first thing, but only you know what your daily outfit needs are!
---
---
BUDGET FINDS
As much as I love designer splurges, I live for a good budget find. The main items I picked up last year were in this category because I was able to get more for less. Nordstrom has such quality pieces, so even when shopping on a budget, you're getting amazing items.
SHOES
I am absolutely living for the shoe selection this year! From designer boots that never go on sale to mules I didn't even know I needed, shoes are a section you can't pass up this sale. Sometimes the sale is hard to shop because you're stocking up on pieces you won't use for a few months, but there's also a few pairs of really pretty summer shoes that you could snag and wear now!
SWEATERS
This will 100% be the category where I stock up most, mainly because the Kentucky weather permits for sweaters from October – April. My favorite purchase was a toss up between this  v-neck sweater and the mock turtleneck sweater – I'm so glad they made a comeback this year! This striped sweater sold out within a few hours of the sale opening last year, so I've linked a few options just in case that happens again. I could go on about why all of these are such good finds, but I'll leave you with this – cheetah print is a neutral and, if there's only one purchase you make, this cardigan needs to land in your cart.
JACKETS
Nothing says fall like a good leather jacket and the color/style options are endless this year. If you're looking to pick up your first leather jacket and don't know where to start, I highly recommend this option. It's affordable and such a great neutral color, so it'll pair really well with all of your fall finds. I'm on the hunt for a good dressy coat, so this pretty one is on the top of my wish list.  I'm also linking pullovers, teddy coats and quarter zips and almost everything I'm sharing comes in a few color options!
COZY
This mama couldn't wait to round up all the cozy things, especially because I'll be living in these jammies post-baby. I'm really tempted to grab these slippers because they're never on sale and are so crazy comfy.
JEWELRY AND ACCESSORIES
Y'all know I'm a Kendra Scott gal through and through, so this section was one of the first I scoured for sale finds. Upon scrolling through my Instagram feed, you'll quickly realize this necklace is almost identical to one of my go-to's that's constantly on repeat. If you're on the hunt for the best cognac bag for fall, this Tory Burch is so good and really functional for daily use. Satchels are so handy for fall tailgates and I am obsessed with this mustard or blue option!
ATHLETIC WEAR
This was easily the most requested section from y'all and I'm so excited about these finds! These short sleeve and long sleeve tees are so cozy and ridiculously cheap during the sale, so don't miss them! If you're like me and can't justify the Lulu Lemon price tag, Zella leggings are the perfect alternative and under $40 during the sale. There's lots of name-brand finds as well, so stock up on tennis shoes and other finds that almost never get discounted!
I hope this roundup has been helpful and made shopping the sale easier for you babes! Please let me know if there are any categories you're wanting me to cover and I'll be happy to add them above. Again, my goal is to be your one-stop shop for the #NSale, so just let me know what else you'd like to see. If you're still not an Early Access member, check my post from earlier this week talking all things Early Access. I appreciate you shopping through my links more than you'll ever know and cannot thank you enough for your support!