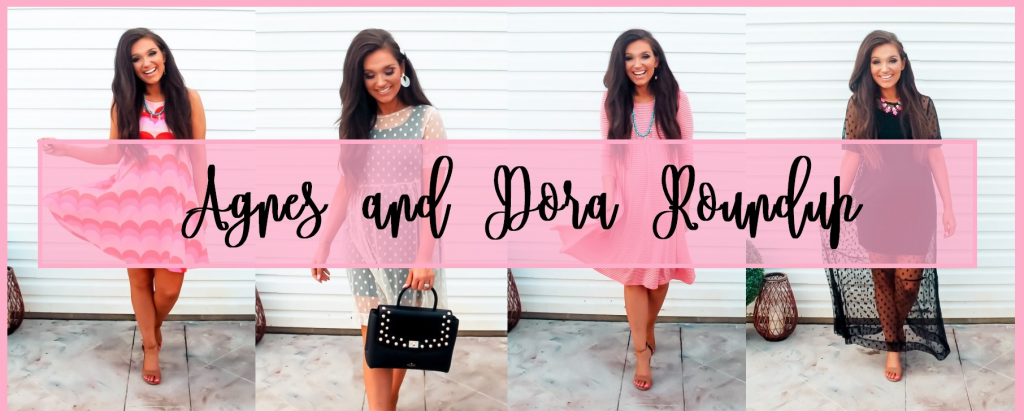 Hi loves! Getting back in the swing of things after a week of vacation is always so hectic. My brain feels like it needs a solid day to re-adjust to everything, and even then I'm moving in slow motion. I have so, so many fun things to share with y'all and wanted to start with something I knew you'd love. You couldn't get enough of my last roundup of Agnes & Dora goodies, so today I'm pulling together a few looks from my most recent package. Don't forget to use my discount code (15XNICOLLETTEVIZUET) – it'll save you 15% on your entire order!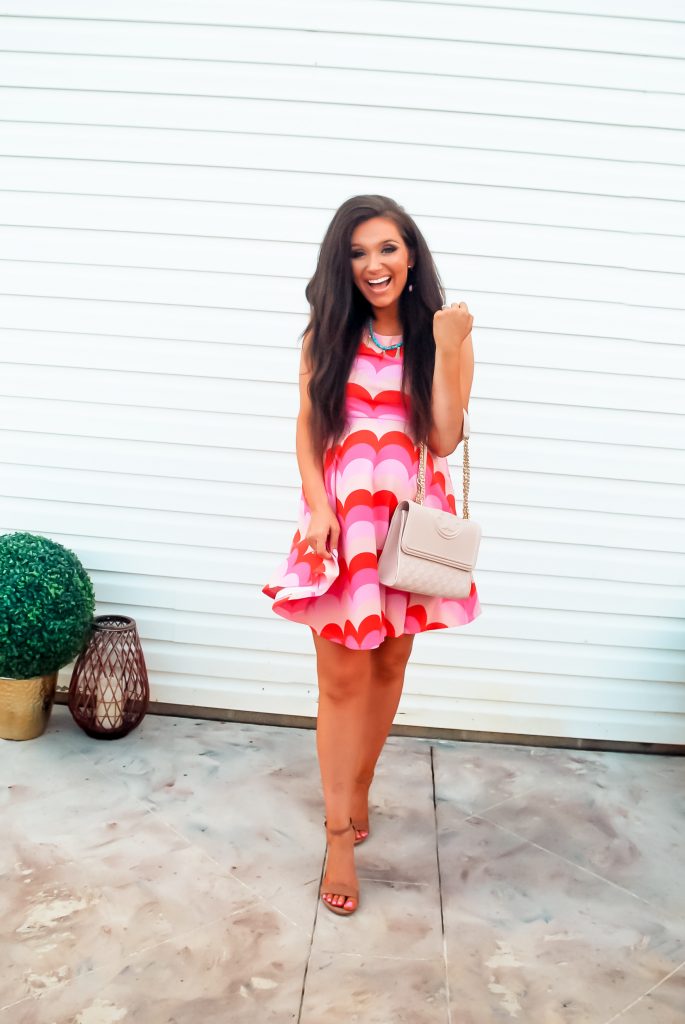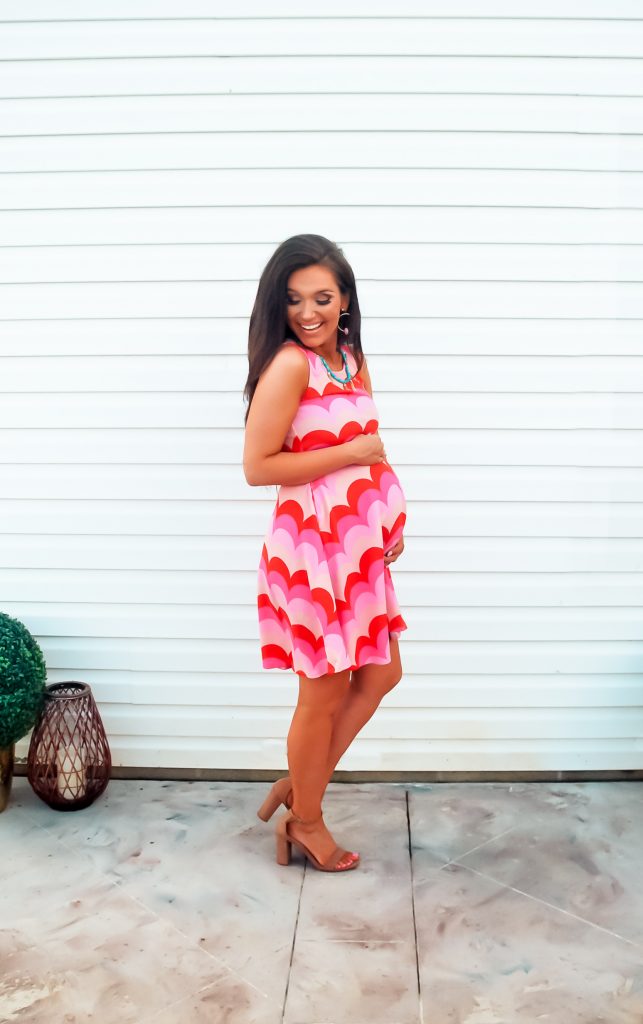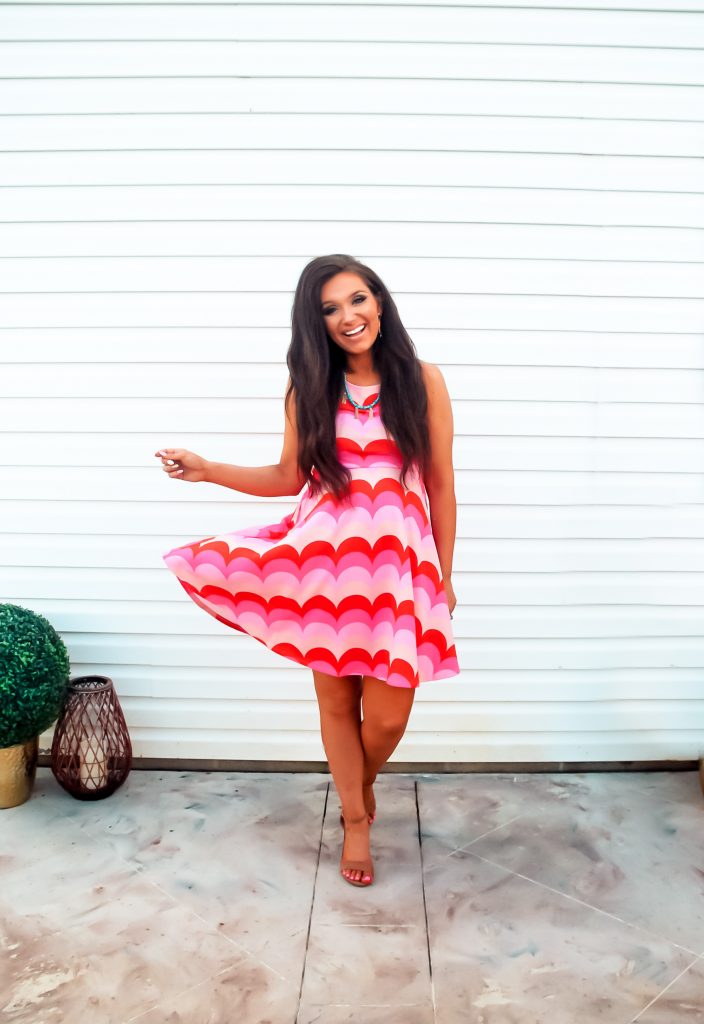 DRESS | SHOES | BAG | EARRINGS | SIMILAR NECKLACE
As soon as I saw this pretty little colorful fit and flare I couldn't click "add to cart" fast enough! I'm a pink gal through and through, so this will be on repeat the rest of summer. I'll admit, I was super nervous the bump would make it way too short, but it's the best length and hits at the perfect spot. I'd recommend for the office (so cute paired with a sweater or cropped blazer), a daytime summer wedding or any events you have coming up!
Things to note: I'm in a small and it's totally true to size. There are pockets, which I know you girls always love. The skirt naturally falls with "pleats" making it fuller and makes your waist look even smaller.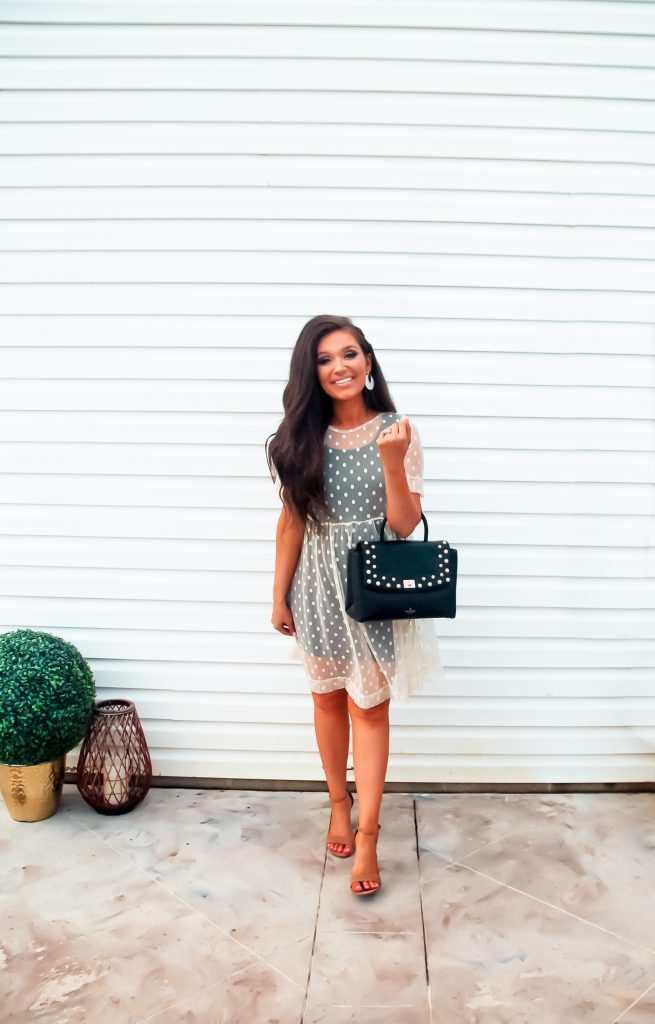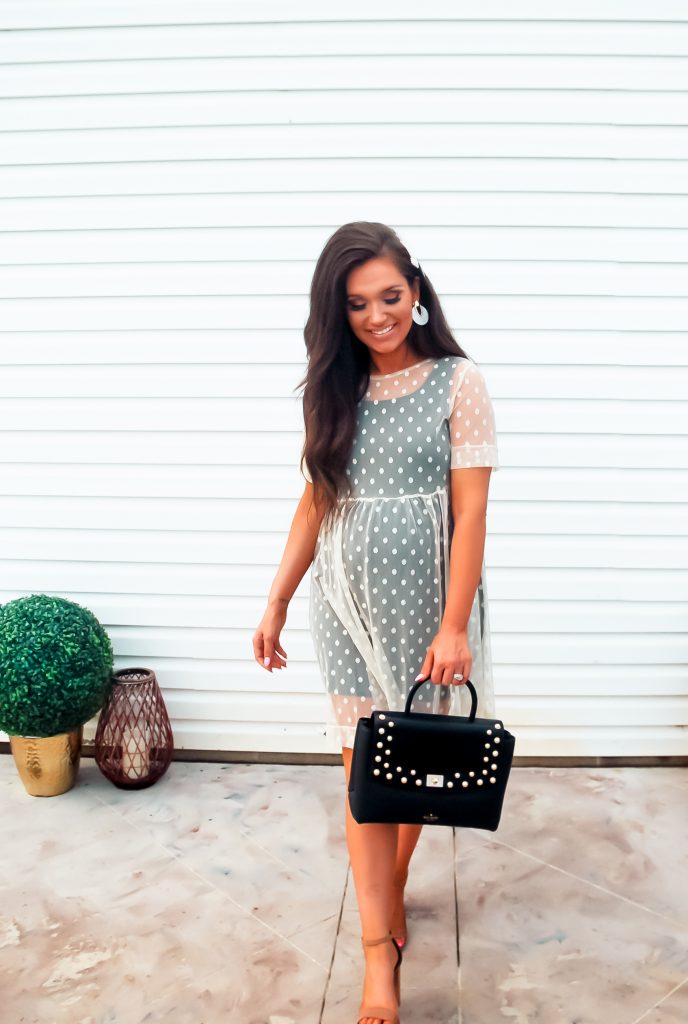 DRESS | SLIP | SIMILAR BAGS HERE, HERE & HERE | EARRINGS | HAIR CLIPS
This polka dot number probably looks familiar, and it should! I snagged the black version and shared in my last Agnes and Dora roundup, so when I saw the cream I had to go for it! These are great for work and I love that you can add any style slip underneath.
Things to note: I ordered the black version in a M and this one in a S to compare the size differences. I'm equally comfortable in either, even with this ever-growing bump. This material is insanely soft and not itchy in the slightest!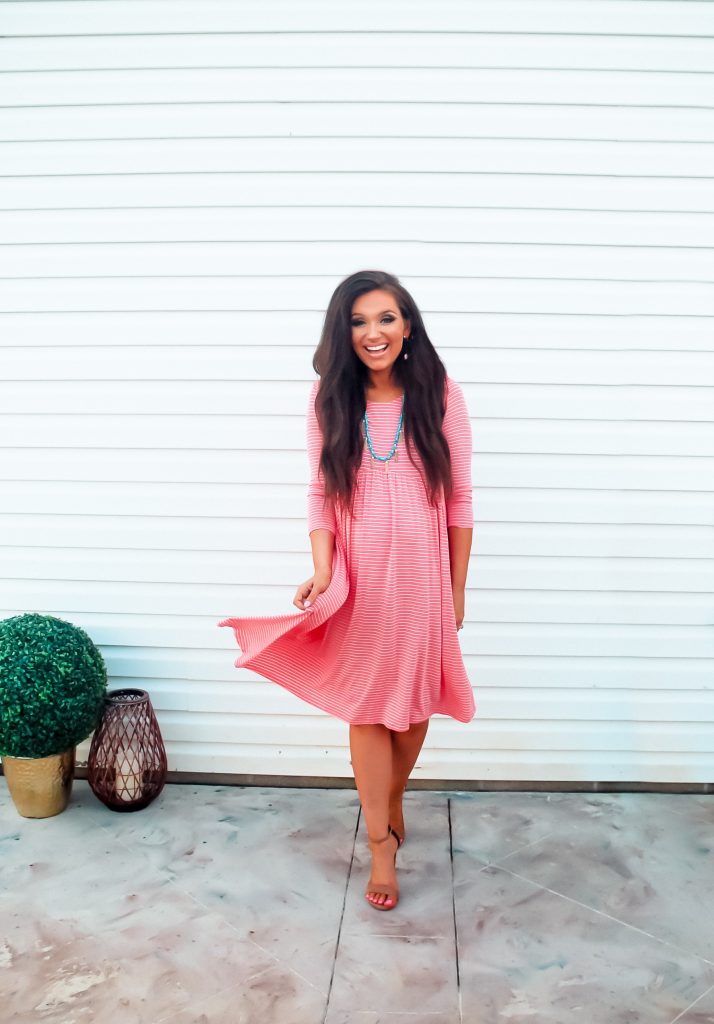 DRESS  | EARRINGS | SHOES | SIMILAR NECKLACE
Okay, I can't rave enough about the cut of this midi dress. The area where it cinches is kind of a rounded empire waist, if that makes sense? It's seriously the most flattering and will be on repeat post-baby because it's so cozy. I'm already imagining it with cute little booties and a scarf through the fall! It's casual enough to wear with sandals and chase your little ones around, but also quality enough to pair with heels for church or work.
Things to note: I did a small and have SO much extra room. Definitely go true to size or down a size if you'd like it more fitted. Even with the bump, an XS would be really flowy on me. This also has pockets and comes in 3 other colors.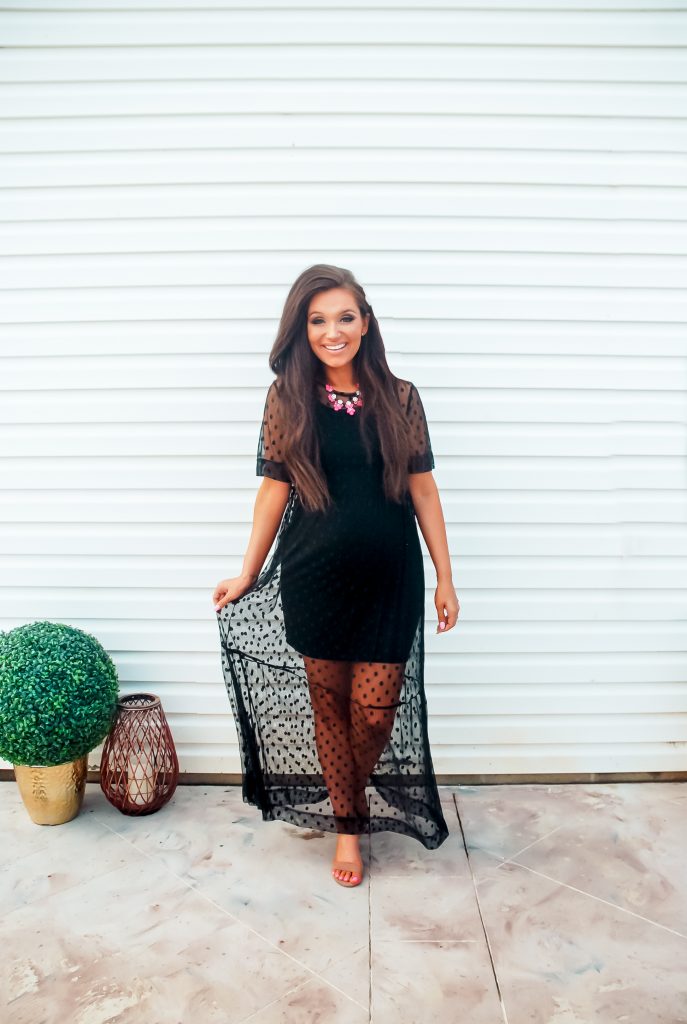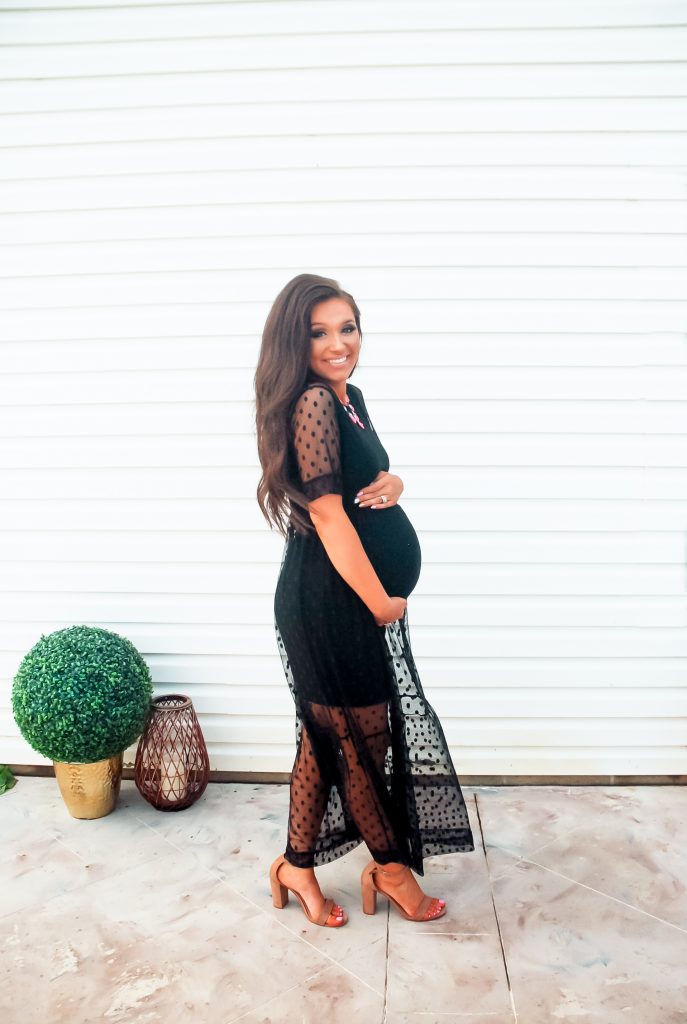 DRESS | SLIP |  HAIR CLIPS | NECKLACE
Saving my favorite for last and fully admitting to being a creature of habit with another polka dot number. What can I say, I know what I like.  Also, at 7 months pregnant you just kind of stick with what you know is going to fit, LOL. In all seriousness, this maxi is good. If the short version wasn't dressy enough for a certain occasion, this one is a million times over. We have a wedding coming up at the end of the month and I already told Mario to plan on all black because I can't imagine wearing anything but this!
Things to note: I'm about 5'5 and wearing 4 inch heels. The dress comes to my ankles, so you could easily pair with flats if you're 5'4 or under. I'm in the medium (same as the short black one from this post) but would be equally comfortable in the small. The dress comes unlined and you can add any slip you'd like – here's a link to the one I'm wearing.
I have another roundup of Agnes and Dora pretties coming your way next week, so stay tuned! Again, don't forget to use my discount (15XNICOLLETTEVIZUET)and save 15% on your entire order! What are you babes adding to your cart? I'd love to hear which picks from the site are your favorite!