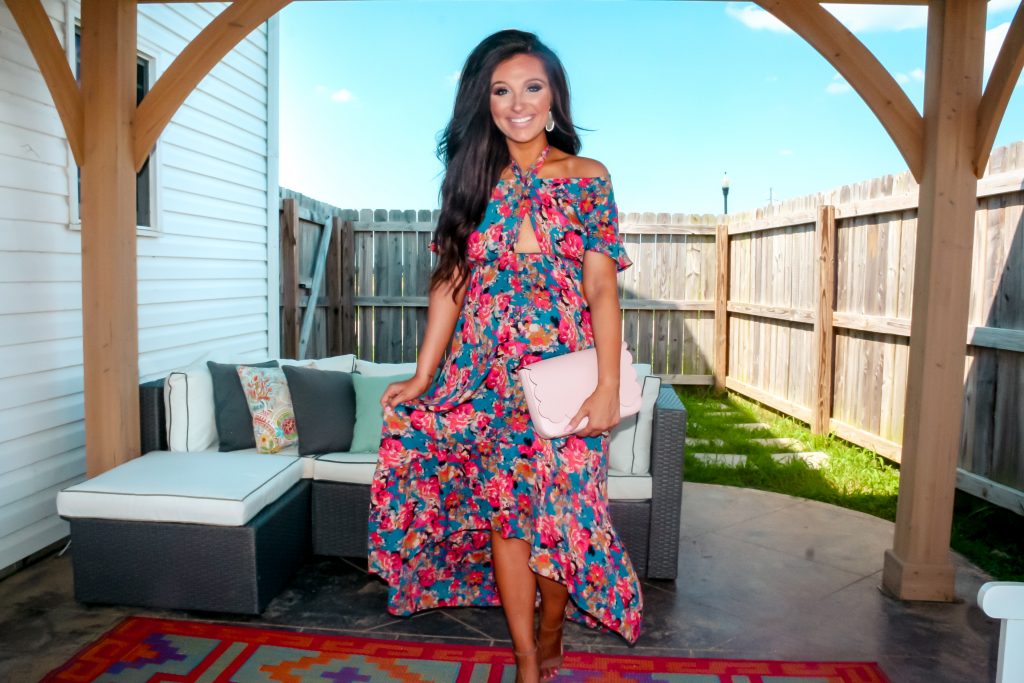 DRESS | SIMILAR BAG & HERE  | NUDE HEELS | EARRINGS
Hi pretty gals! I'm so excited we're coming up on the end of July. Don't get me wrong, I hate to wish away the days, but this mama has had a hot summer so far. Just counting down the days until Baby Beckham makes his grand arrival and September is starting to feel much closer!
I was going through my calendar and the wedding we attended this past weekend totally snuck up on me!  Don't get me wrong, I'm a sucker for weddings. Getting to dress up with my husband, inevitably cry through the vows and spend the evening dancing with our friends – yes please! However, at 7 months pregnant, you can imagine the dismay as I frantically tossed options off the hanger in search of anything that "fit" and also color coordinated with something in Mario's closet. Today I'm rounding up a few of these pretty picks (all non-maternity!) so you have a few options ready to go in case you're ever in the same pinch!
There's just something so classic about black and white, right?  This high neck maxi makes it almost impossible to feel underdressed, but the double-layered chiffon makes it lightweight and appropriate for something less formal as well. Also note that the slit looks more exaggerated here than it really is – between my bump and stance, it looks really prominent. Post-baby I would venture to say this will be perfect for church, showers and other events in almost any season! Here are a few other Shop Pink Blush options I'd wear for the wedding/special occasion season with or without my bump.
I shared this pretty little floral dress over on Insta-stories and y'all were obsessed! I actually styled it really different than the model because the cutout detail was too cute to cover. Plus, I love how this accentuates the bump! I went with a medium just to be safe but highly recommend going with your true size. The elastic waist makes it really cozy and doesn't require sizing up whatsoever. Also, who doesn't love a loose waist option for dinner, drinks and dancing?! Most of the time I affiliate floral with spring, but since there are a few darker shades I'd comfortably transition this pretty high-low option into fall festivities, too.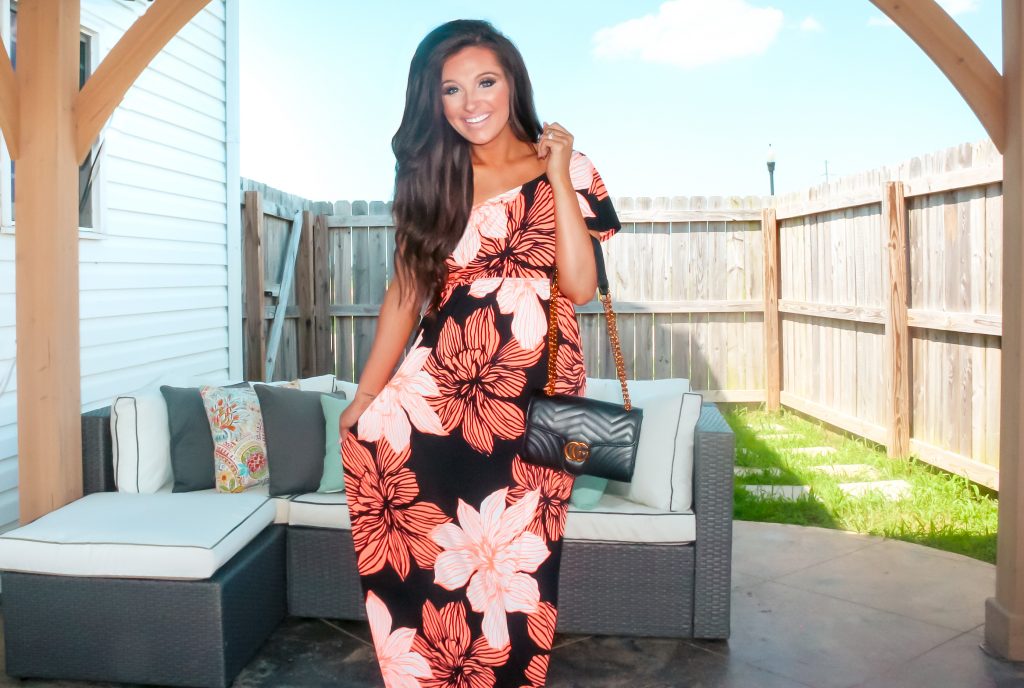 Ahhh, y'all know I've been a sucker for one-shoulder dresses through my pregnancy. The empire waist is flattering on any figure, but especially with a bump. This dress is actually meant to be worn off-the-shoulder, but having a busy little toddler to chase and pick up every few minutes doesn't make it super practical. Toddler moms, I know you're picking up what I'm saying here. I showed a quick little tutorial the other day on stories about wearing this dress one-shoulder, strapless or off-the-shoulder and love it all three ways. It's so nice to have versatility in your dresses!
What look are you gravitating towards?! I would love to hear your top picks and which style you'd re-wear the most.