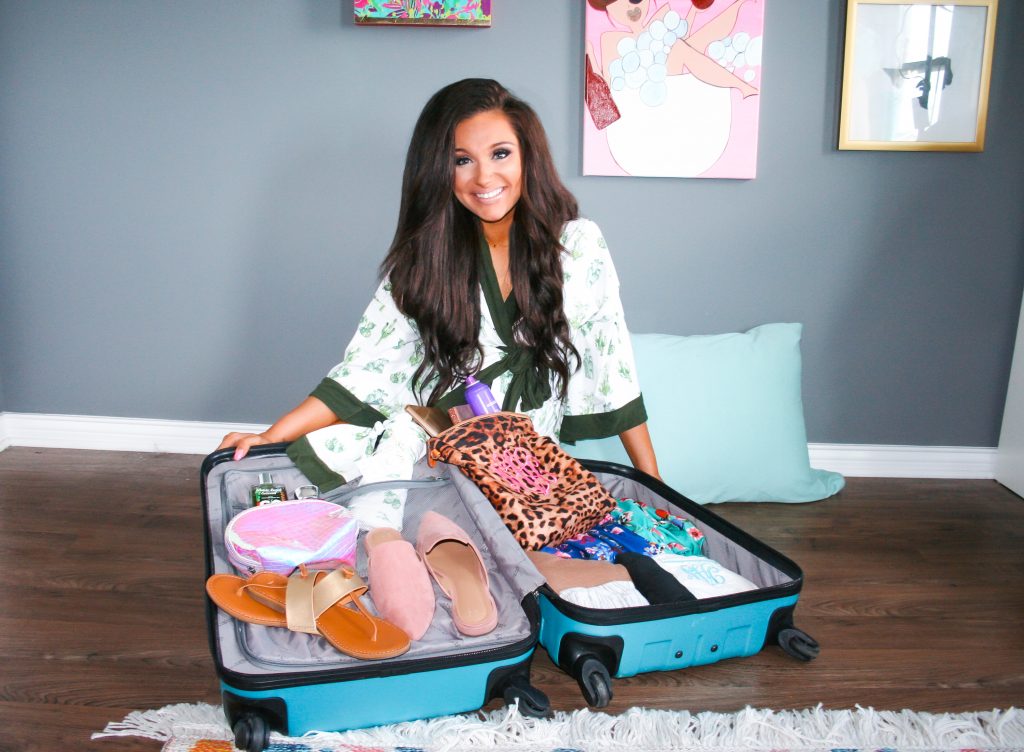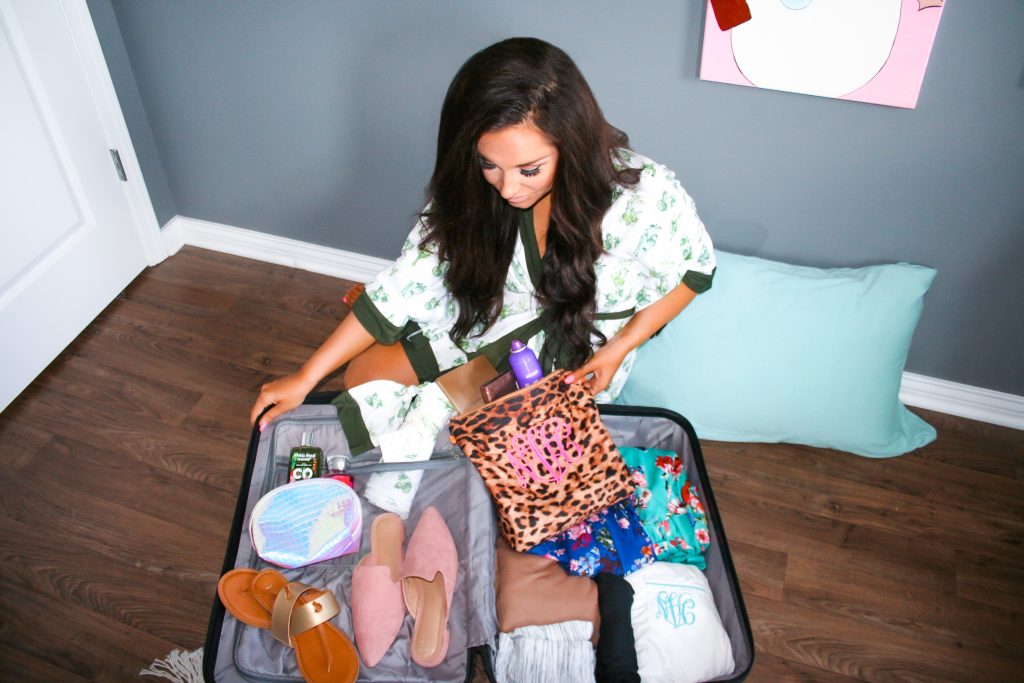 CACTUS ROBE/SWADDLE SET |  SUITCASE | MONOGRAMMED SLEEP SHIRT
As if things weren't getting really real around here – it's time to pack these hospital bags, y'all. My first time around there were tons of things I'd read to pack and never ended up using, so I feel a little more prepared this time around. I'm a little ahead of the curve on this, but Braxton came a few weeks early, so I want to make sure we're set when Beckham decides he's ready!
For mama:
CLOTHES
TOILETRIES
EVERYTHING ELSE
Phone Charger – So glad I found these extra long ones!
Baby Book – Ours has a spot for hand and footprints, which I forgot to get the first time around. I'm putting my mama in charge of that this time!
Nursing Pillow – Even if you aren't planning to nurse, these pillows make holding little one extra cozy.
Pillow from Home – I struggled with sleeping because the hospital pillows were really thin and flimsy.
FOR BABY
Swaddle Blankets – I found these and am so excited to try! Braxton always busted free when Mario and I swaddled him in regular swaddles, so I'm excited to give these a go.
Onesies – Our hospital provides these really great onesies that cover their hands as well (to prevent them scratching), so we'll probably use those.  There's also a photographer that does baby photos, so we'll take a few onesies/swaddles for those as well.
Mittens – These are a must in my book! I didn't get any with baby Braxton and sent Mario to the store within a few days because he had scratched his sweet little face.
Socks
Car Seat – we snagged this one after reading that it was pretty lightweight but still really great quality!
Swaddles for Pets – We did this the first go-around and gave the dogs blankets that had Braxtons scent on them. Our dogs are bigger and super wild, but they have always been tolerant with him. I can't speak to how much it actually helps, but it's worth a shot!
Baby Book – I have deemed my mama in charge of this! We have a spot for hand and footprints that I'm wanting to capture this time – I totally missed the mark on that with Braxton. The hospital does hand and footprints, so it's a good time to knock it out for the baby book as well!
FOR DAD
Toiletry Bag – I ordered this bag to load up with with deodorant, toothbrush, toothpaste, shower items… Mario will probably run back and forth to the house a few times since we won't keep Braxton at the hospital, so he may not need a full shower set.
Sweats/Change of Clothes – Again, I'm sure Mario will be back and forth at least 2-3 times once Beckham comes, but labor can be lengthy. If you're in the same situation, I would make sure to have at least one change of clothes on hand.
Phone Charger – Everything was a blur and I hardly checked my phone, so Mario was great about handling the calls/texts/checking in with people. He doesn't have an iPhone, so I snagged him this pack of chargers and he loves them!
THINGS WE DIDN'T PACK
The items I saw over and over that we skipped out on were: towels, snacks, headphones and a birthing plan.  We didn't pack towels because they're just so bulky and we aren't too picky. I also saw snacks as a necessity on tons of lists, but that's a no-go for us. I was so hungry during labor last time and would have been devastated if I knew there was a big bag of snacks in my suitcase! I loved the hospital food and also had people coming and going tons, so getting snacks wasn't an issue if we really needed them. I personally can't think of a time I would have used headphones, but I saw it on at least 5 different lists! Between all of the visitors, getting a grasp on nursing and being new parents, I can't think up a moment where headphones would have come into play. We also don't have a birthing plan (we're just excited for him to pop out!), so no nothing to pack on that end.
Since we have lots of helping hands around us, our list might seem kind of light. If you don't live near friends and family or if you're delivering at a hospital not super close to home, you might have a handful of items that land on your necessities list that I haven't mentioned. Overall, your packing list is just what you'd want to have to be comfortable for 3 or so days!  The hospital has most of what you'll need and what you pack is totally based on personal preference. I hope this has been helpful for some of you sweet first-time mamas and can't wait to hear what necessities you're packing! Leave anything I might have forgotten in the comments below!