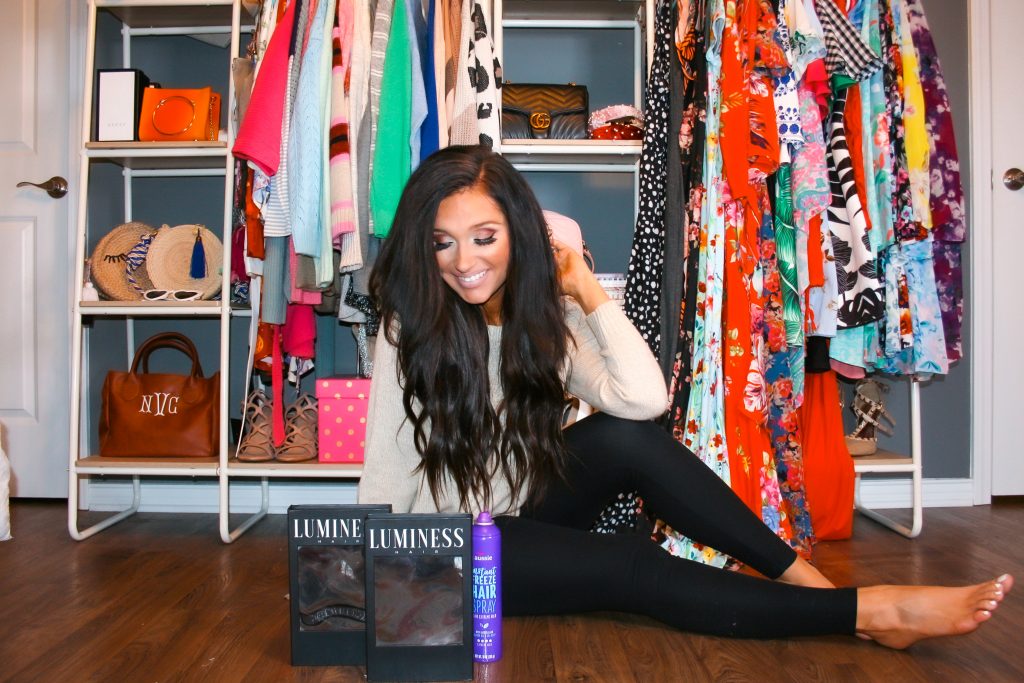 All THINGS HAIR
 EXTENSIONS | SHAMPOO/CONDITIONER | WAND | HAIRSPRAY | FLAT BRUSH
Hair is one of the most requested posts from y'all, so I'm finally breaking down all the details! First up, I wear clip-in extensions daily. They're my preference to other methods of extensions because: they're affordable, they tend to last longer, and they don't interfere with my teasing routine. I switched to Luminess Extensions about a month ago and have been obsessed! Seamless extensions are the way to go when it comes to clip-ins! They blend so well and you don't have to worry about clips or thick tracks causing "lumps" that stick out.  They're so simple and makes for extra voluminous hair!
Next, I do not wash my hair daily. Almost anyone will advise you on this – not only is it healthier to wash less, but it's much easier to style. I honestly dread attempting to tease and work with my hair when it's freshly washed because it just doesn't cooperate. You'll use less heat on your hair this way as well, because you avoid blow drying and just add touch up curls as needed. The reason my hair can last days on end without washing is mainly because I tease at my roots, so that + my hairspray keep it from getting oily.
Getting the volume
If you haven't already, run your straightener over any "kinky" or unsmoothed areas near your roots. You won't want to do this after teasing, mainly because after you've applied hairspray it'll leave a "crunchy" texture to anything you straighten. I take sections about 2 inches wide, hold them straight up and use my flat paddle brush to tease the roots. (I prefer a brush to a teasing comb because it doesn't leave as "messy" of a look and is so much easier to brush out.) I lightly spray each section before moving onto the next and repeat this pattern all around my head. Let these pieces sit while you're getting ready (do your makeup, make a smoothie, anything to let it sit for a few minutes!), then begin brushing it into place. Lightly brush through roots to smooth them out.
Make it pretty
I add my extensions at this point – they go in so easily to teased roots! When I have smooth roots they slip, so definitely try this if you're running into that issue also. Once I have them placed, I brush through all of my hair again to make sure it's somewhat blended. Now, pull forward the hair you'll have in front of your shoulders. My preference is looser curls, so I split each side into 2 "sections" and only wrap each around the wand twice. That leaves me with two sections on each side of my head that I end up curling, then I add others as needed. I'll let them sit for a few minutes before running my fingers through them & adding some additional spray.
Once you're ready, begin lightly brushing hair into place. Move pieces to cater to how you part your hair. Be gentle with brushing through! You can always flatten it out if it's too fluffly, but don't start by aggressively brushing because it's hard to re-add the volume at that point. Once everything is in place, I take a handful of the hair laying on my shoulder and lightly lift/drop it while lightly spritzing it with hairspray. This adds volume and saves you so much in comparison to the cost of texturing spray!
Okay girlfriends, I hope this has been a helpful rundown on how to tease, style and add extensions to your hair! I have tons of tutorials and tips on my Instagram highlights (one for all hair and another just dedicated to extensions), so definitely reference these if you'd like to see a video breakdown on these details!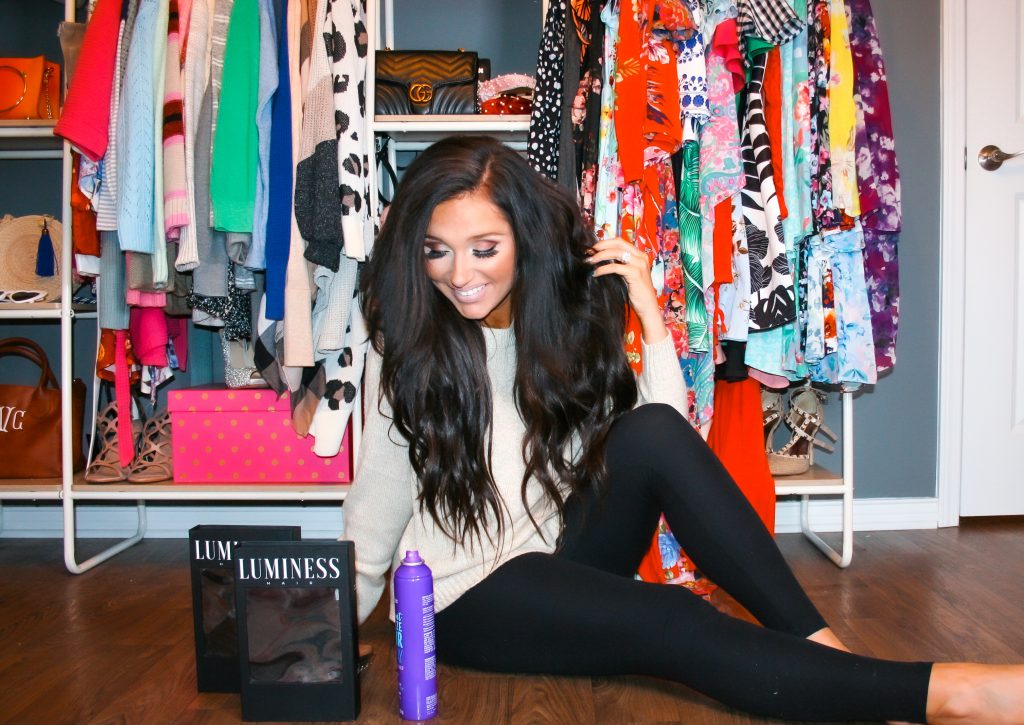 This post contains affiliate links, meaning I may receive a small commission on purchases made through these links. As always, the selections and opinions in this post are 100% my own!