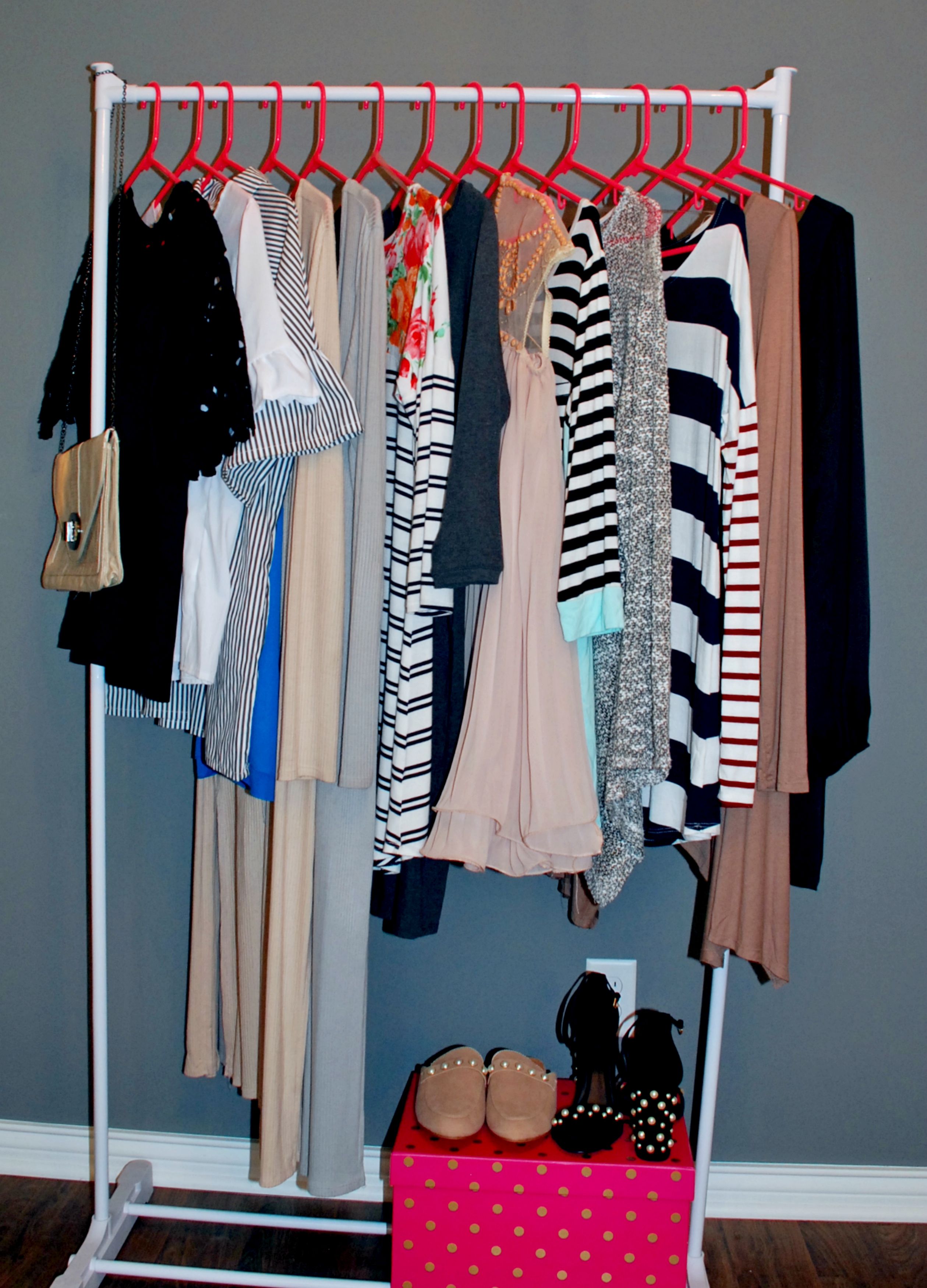 There are few things that make me feel as overwhelmed as looking into a jam-packed closet while thinking "I have nothing to wear." As much as I would love to blame this on my ever-growing bump, I can promise this is a dilemma has been the start to most of my mornings for the past 20 something years.
After moving 4 times in the past 3 years, I've become a bit of a closet purging pro. I'm currently working on a guide for spring cleaning your closet + storage for pieces you aren't using that season, but I thought today would be a great intro to that – let's evaluate closet staples and get back to the basics! Keep in mind, your basics might vary from mine (if you're a nurse, you probably shouldn't invest in the same shoe collection as me….), but I've narrowed down a list of items nearly any girl across the spectrum needs on hand.
CARDIGAN:  My office is always freezing, so I live in cardigans year-round. You can take a sleeveless top from a summer piece to a work-ready look by popping on a cardigan.
NUDE HEELS: You might wear heels daily, you might wear them twice a year. I can promise that when you do, you'll reach for nude. Not only can you rely on them to match the last-minute look you're throwing together, but they're instantly slimming because they'll elongate your legs!
BLACK LEGGINGS: I'm not sure that much of an explanation is needed here…. however I think it's important to purge these often to ensure yours aren't thinning and turning opaque.
SOLID TOPS:  I love fitted, solid tops. They pair with dress pants. They go with jeans. Toss one on with your pattern Lilly Pullitzer shorts. Solid tops will forever be a wardrobe staple you don't want to toss.
DARK SKINNIES: Denim trends come and go (I'm looking at you, fringe bottom denim…), but you will never regret having an extra pair of dark skinny jeans.
CROSSBODY BAG:  I love using mine when we're on vacation and don't feel like lugging around a tote, or nights we're going downtown with friends.
RIDING/WINTER BOOT: Of course the need for this varies based on where you live, but I don't regret investing in black and tan because I get so much use out of both.
SHORT PENDANT NECKLACE: These are great for pairing with a busy top, keeping a jeans and tank look simple, or jazzing up leggings and a tee. I linked this one in my post a few weeks ago and am loving this one as well.
CHAMBRAY TOP: I have a fitted to wear with dress pants and an oversized to pair with leggings. Both get tons of use and are an easy go-to when all else fails!
BLACK DRESS: I rely on mine for wedding season, last minute meetings at the office (paired with a blazer) and everything in between. It's always nice to have a backup when an event pops up and you don't have time or patience to go shopping.
NEUTRAL DRESS PANT: Skinnies are my go-to because they're instantly slimming and pair with tucked or untucked tops. Even if you don't wear them on a daily basis, it's so good to have them on hand for interviews or to wear for drinks with friends.
ANKLE STRAP HEEL SANDAL: I had 3 colors last summer – my only regret was not getting them sooner. They go with dresses, jeans and everything in between. If you don't know that you'll wear them often, start with nude or black (and be prepared to add more to the collection because you'll love them).
SATIN/SILK TANK: I can't stress my love for these enough! Stick it with your cardigan for work. Pair it with a blazer to be dressy. Wear it with jeans. They're perfect alone or layered with a cozy cardi. I love this option & linked a ton more in my "under $25" widget on the site, too!
BLAZER: I wear them a few times a week and always find myself reaching for white or navy.  Blazers give a tailored look to any outfit.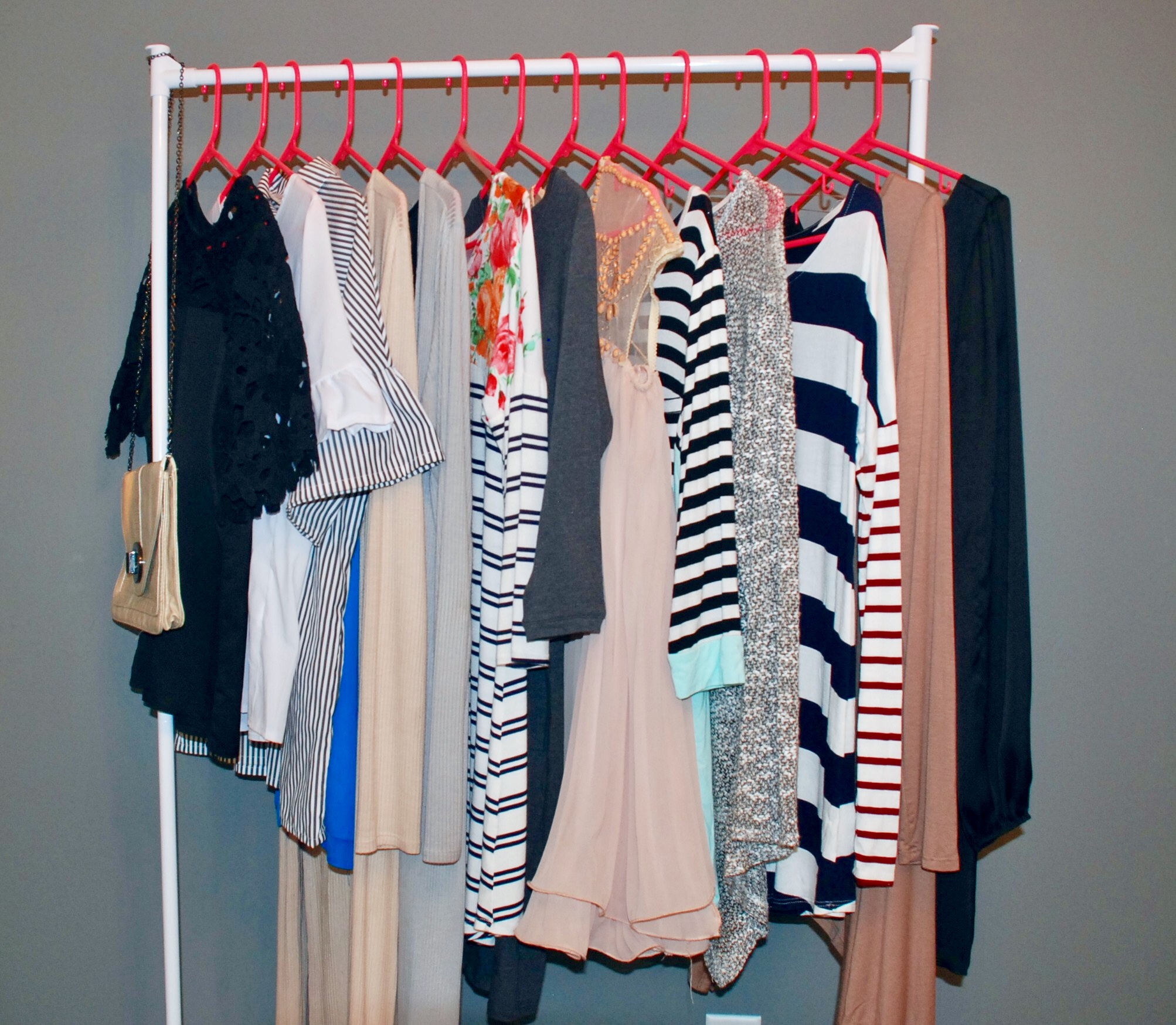 Again, my "necessities" might vary from yours, but start with this list and add on what you reach for most often. Hopefully this has you spinning your wheels so when you land here for "spring cleaning – closet version" you have a good idea of pieces that you're keeping and which can go so you can make room for your basics.
Let me know if y'all have any other basics you'd add to the list, I'd LOVE to hear what you have as staples in your closet!
Xo,
Nicollette